How to create a photo essay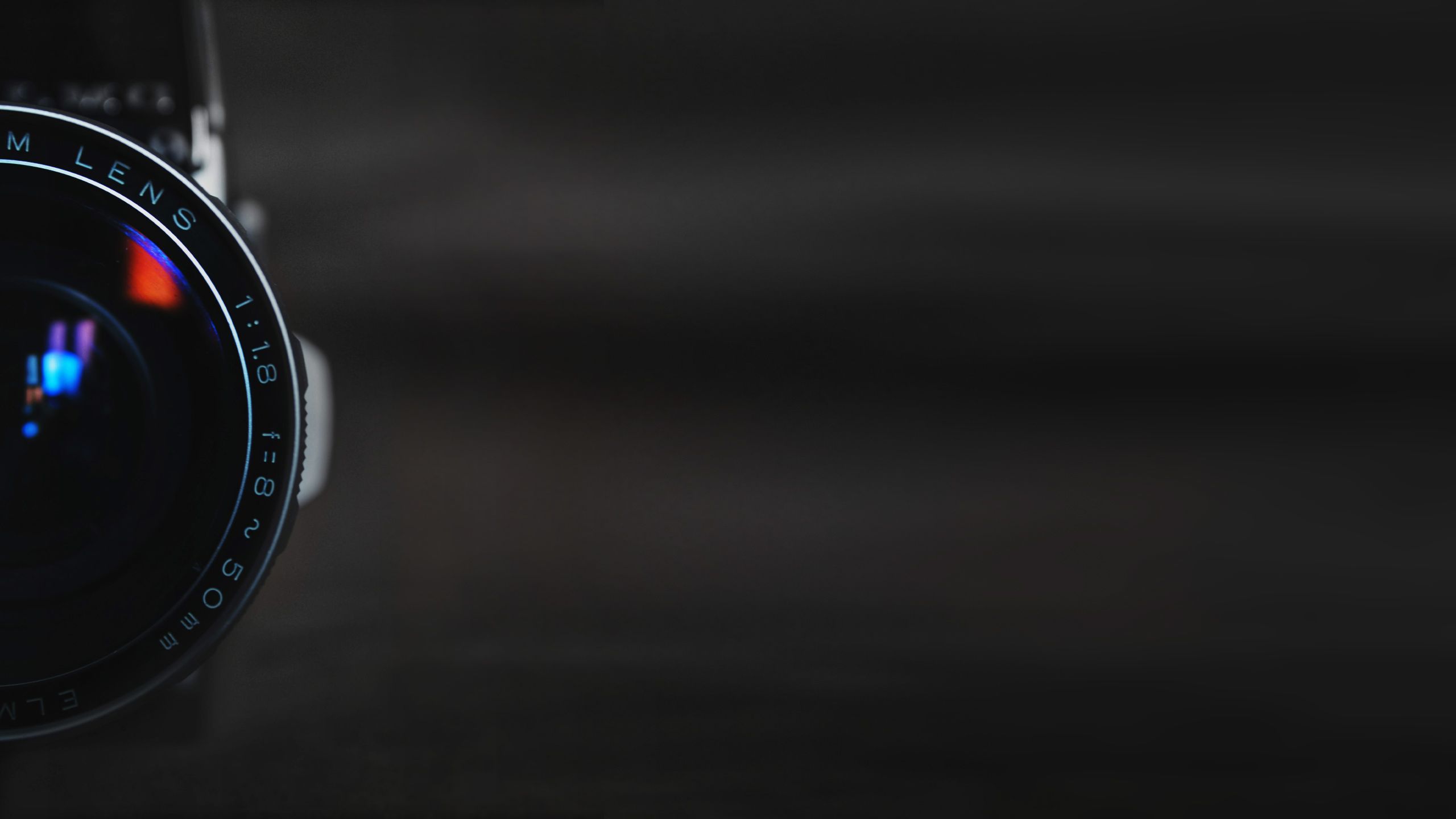 According to LDV Capital, there will be 45 billion cameras in the world by 2022. The proliferation of smartphones with hi-res cameras — coupled with our obsession with documenting the mundane on social media — has led to a glut of images shared on the web.
We're talking 3.2 billion images shared online every single day.
A decade ago, observers were predicting that this would spell the end of professional photography. But as we all know from our Instagram feeds, the need for professional photography — properly produced, contextualised, and published — has never been greater.
With the emergence of next generation digital publishing platforms, we're seeing a new era for photographic essays. Many of the most powerful examples are from journalism, where immersive photos are transforming long-form journalism into a more dynamic and interactive experience.
But powerful photos — coupled with immersive, interactive digital storytelling techniques — are being increasingly incorporated in marketing and communications across multiple industries, from brands to nonprofits.
In this guide, we'll cover:
The main types of photo essays
The new era of photo essays
Tips for making thoughtful and powerful photo essays
How to make a compelling photo essay
We'll also provide a range of photo essay examples as we go
If you're looking for more examples, check out our roundup of photo essay examples.
Let's dive in!
What do the BBC, Tripadvisor, and Penguin have in common?

They craft stunning, interactive web content with Shorthand. And so can you! Publish your first story for free — no code or web design skills required.

Sign up now.
Types of photo essays
There are two primary types of photo essays: thematic and narrative.
Thematic photo essays
Thematic essays focus on a topical story (like a natural disaster). One example of a great thematic essay comes from NBC News Olympics photos: Emotion runs high.
This piece encapsulates the overall gloom of the 2021 Tokyo Olympics — through a series of powerful behind-the-scenes photographs of athletes in varying levels of distress — but does not focus on a particular subject.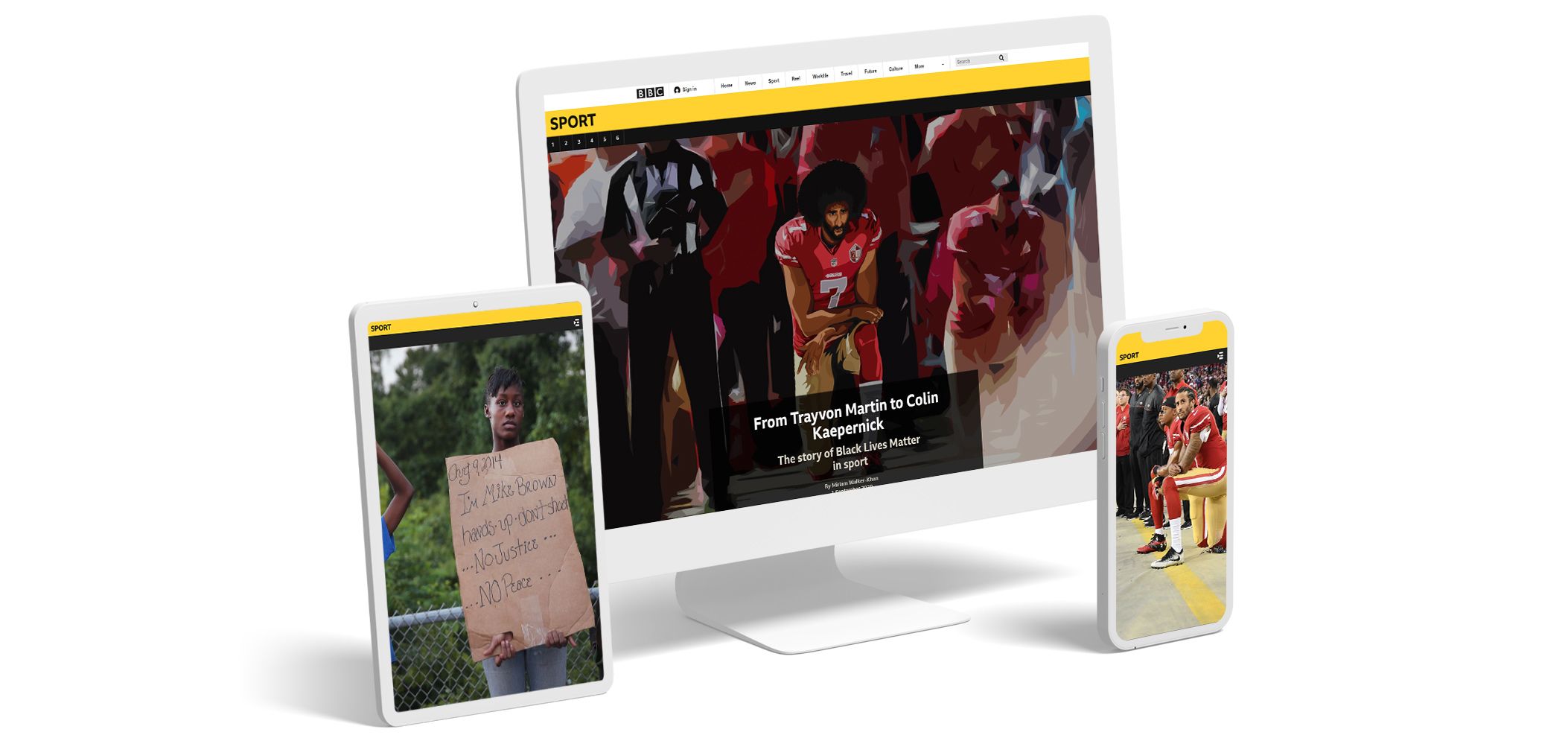 Narrative photo essays
Narrative photo essays take the story a step further and tell a specific story through images.
One striking example is SBS's 28 Days in Afghanistan. This narrative essay documents photojournalist Andrew Quilty's time in the war-ravaged nation through stark photographs and supplementary text.


What is a photo essay in 2023?
A traditional photo essay aims to replace the written word with photographs. Done poorly, it is nothing more than series of images lumped together. Done well, though, the photojournalist or artist takes the reader on an engaging journey.
The main difference between photo essays of yore and photo essays in 2023 is the sophistication of digital publishing. With the rise of digital storytelling platforms, we're seeing a rise in truly interactive and immersive digital photo essays.
Today, many digital photo essays include quotes and text to supplement the visuals and are formatted using interactive scrollytelling techniques. Scrollytelling is a form of visual storytelling that leverages user engagement (scrolling) to reveal images and text in an interesting and dynamic way. The interactivity compels the viewer to continue consuming the content, and creators have a wide latitude when designing the overall effect.
Given the benefits of a more dynamic and interactive form of photo essays, it's easy to see why they have become so popular in recent years. But as with any photo essay, creating an exceptional digital photo essays requires planning, structure, and know-how.
Let's take a closer look with ten tips for great photo essays.
Looking to learn more about interactive visual storytelling? Check out our guide, 8 tips for powerful visual storytelling.
10 tips for great photo essays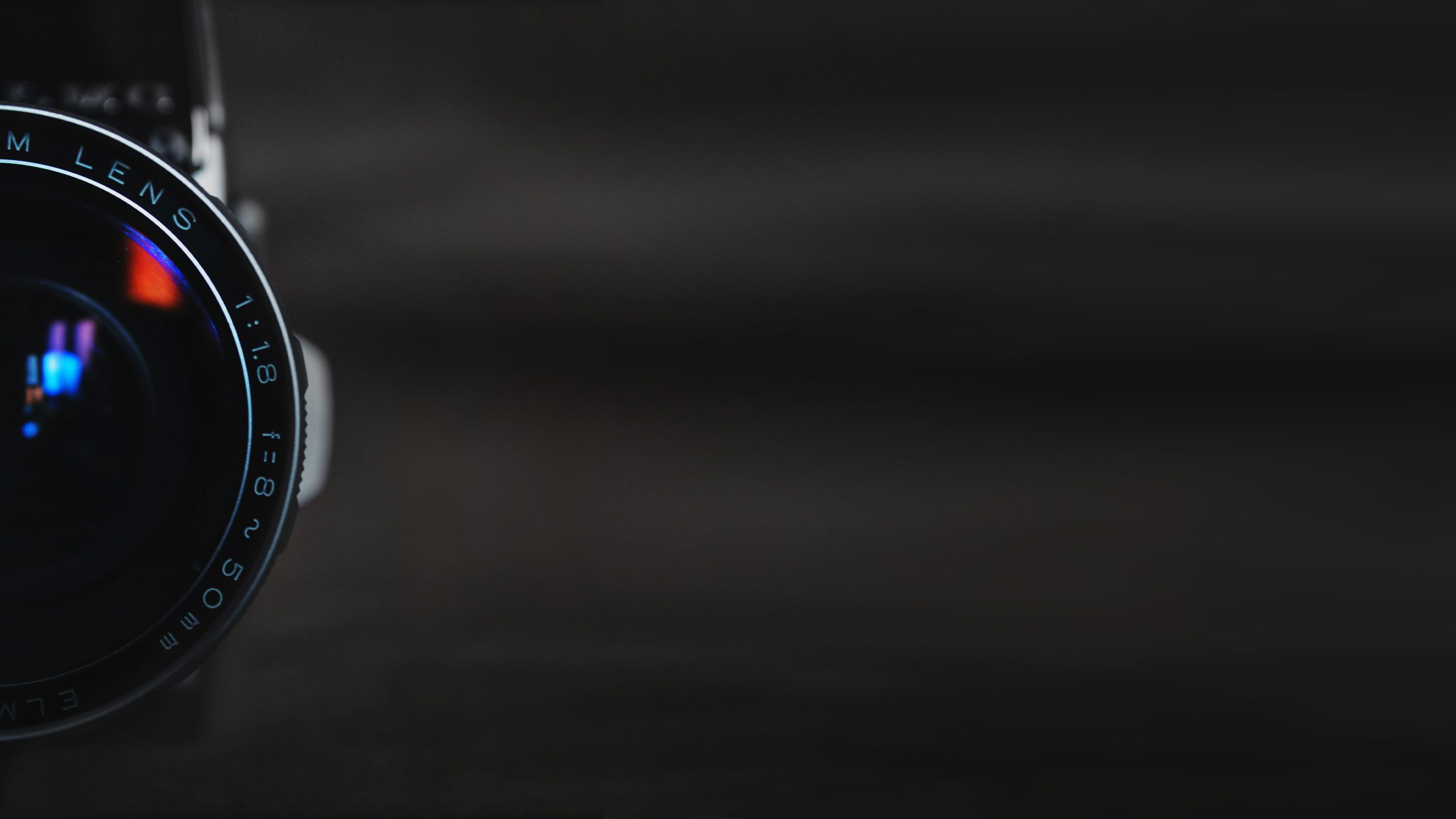 1. Create visual structure
An authentic photo essay requires visual markers to help transform a collection of images into a narrative. For example, photo chapter headings in Growing up young introduce each new girl in the story.
Similarly, in SBS's photojournalism story — 28 days in Afghanistan, mentioned above — each dated header delineates a part of the story, providing an easy-to-follow chronological structure and pace.
Daniel Boud intersperses his own thoughts in between a haunting series of photographs of the iconic Sydney Opera House as it underwent a restoration during the early days of the Covid-19 pandemic in The Sydney Opera House at Rest.
Text can add depth to the photo essay—but take care where you add it. It should support and enhance the final product, not overshadow it.

2. Make it interactive
In 2023, the best photo essays are interactive.
One great example of an interactive photo essay is WaterAid's essay, Water and Climate. This photo essay highlights the people climate change has impacted most brutally, including a video, stark close-up photography, and graphics to get its point across.
The photo essay uses minimal text, preferring to allow the images to speak for themselves. As a user scrolls, it exposes them to more content. Each visual and supplemental text further immerses the viewer into the story until the end, where they encounter a call to action to join WaterAid in helping those in need.
Nonprofits like WaterAid often use interactive photo essays to compel people to act, because they work. Half the battle of convincing someone to part with their money is creating an emotional connection with them—something a photo essay does particularly well.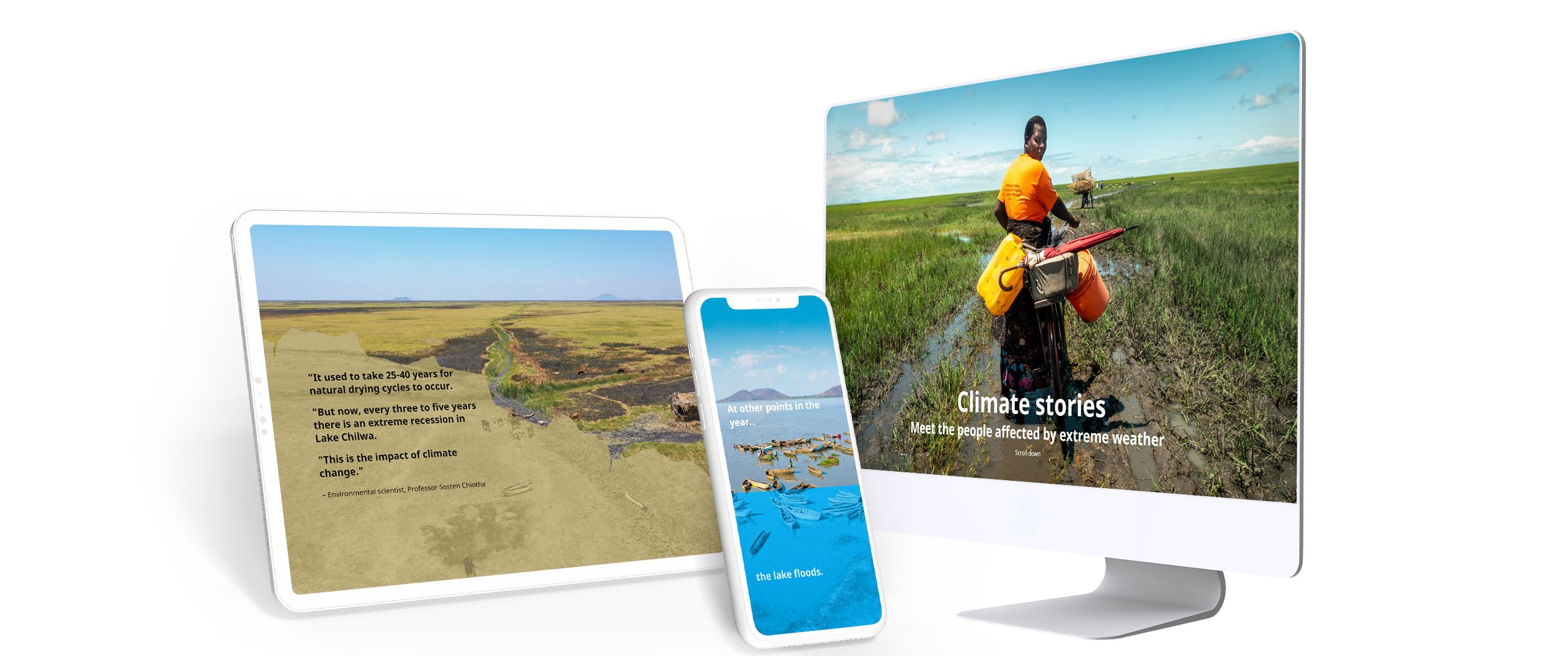 3. Produce more content than you need
Have you ever seen how much film footage ends up on the cutting room floor for the average movie (known as the shooting ratio)? It's a lot.
Why is this? First, filmmakers know that many of the shots they take will be either poor-quality or simply not up to their exacting standards. Second, if a director included all the footage they took throughout the entire production in the final product, her movie would be a bloated mess.
The editor's job is to strip away the dead weight to reveal a clean, refined, final product that keeps viewers raptly engaged. However, an editor may struggle to do his job if the director has not provided enough usable footage.
The same principles apply to creating an exceptional photo essay. Always assemble more visuals and content than you think you'll need so you can use the cream of the crop for the final product. Shedding content may be difficult, but it's necessary, so be prepared to edit your piece without mercy.
Publishing photos on the web, but confused about the range of file formats? Check out our guide to file formats.

4. Use only the best photos
A photo essay is not an excuse to throw together all the imagery you have. Just like any good story, it needs a focused and compelling narrative that keeps things connected. Each image needs to bring something to the table.
Remember that photo quality plays a significant role in the overall caliber of a photo essay. If your iPhone isn't doing your subject justice, don't be afraid to pull in a professional to make your work come alive.
A great example of this comes from Sky Sports. In their photo essay, Pictured: Diego Maradona, they had to be ruthless when deciding upon the imagery to include.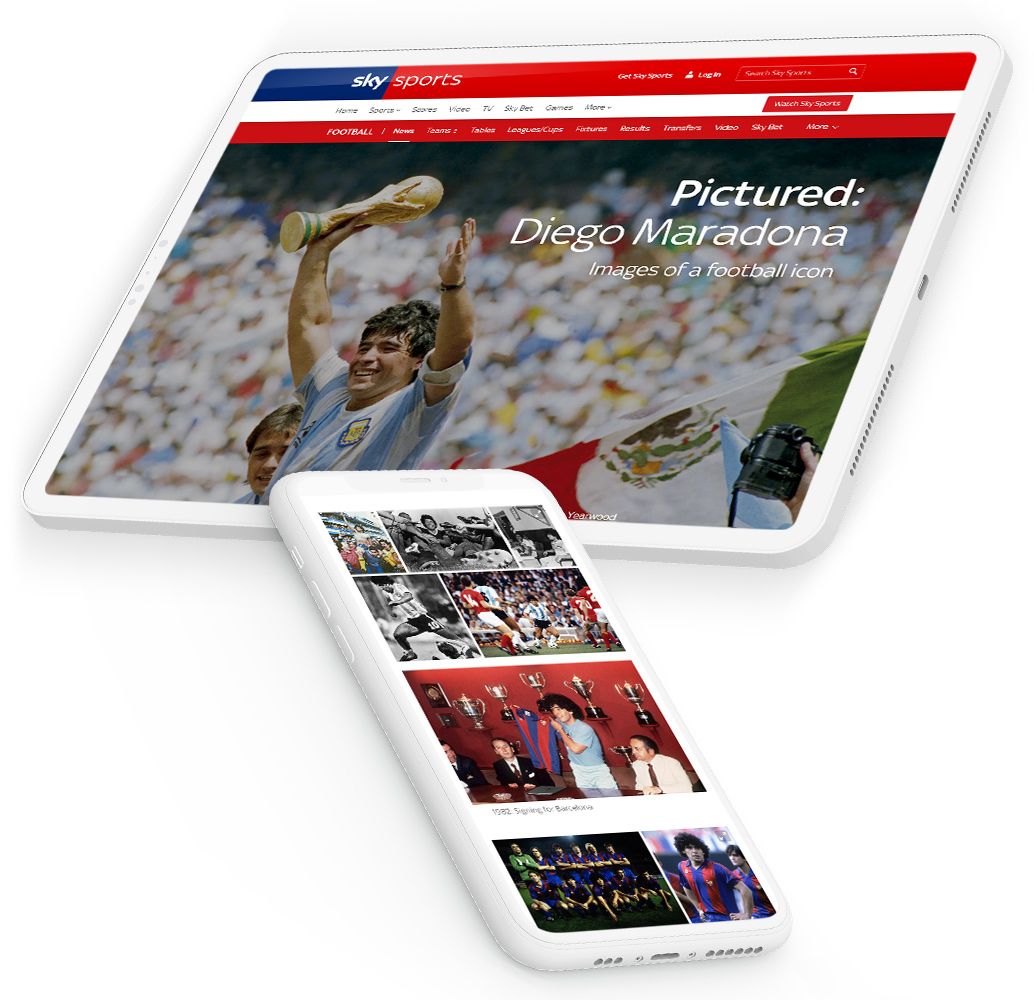 They no doubt had hundreds — perhaps thousands — of photos to choose from from the many photo shoots in Maradona's life. Yet they knew that each one had to be poignant and compelling in its own way.


5. Don't be afraid to edit your photos
Not everyone can be Ansel Adams or Annie Leibovitz. Happily, with the readily available photo-editing software like Photoshop and high-quality cameras on every smartphone, you don't need to be. Do your best to acquire top-quality photos, but don't be timid about improving them!
Thanks to heavy exposure to advertising, viewers today now expect doctored images. Whether you're refining a photo for a flawless finish or adding a touch of grittiness, use this expectation to your advantage. Dial up the contrast, crop out unnecessary elements, and use filters if they suit your needs.

6. Visit the archives
With so many gleaming, airbrushed-to-perfection photographs online today, exposure to imagery that's not polished within an inch of its life can be a refreshing change.
For example, take a look at Mancity's My Debut Trevor Francis (v Stoke 1981), which exclusively uses archival images. Not only was this a necessity (the focus was on a decades-old football match), but it lent the entire piece a tattered legitimacy. You wouldn't expect "Insta-worthy" images because that's not the experience the author is trying to convey.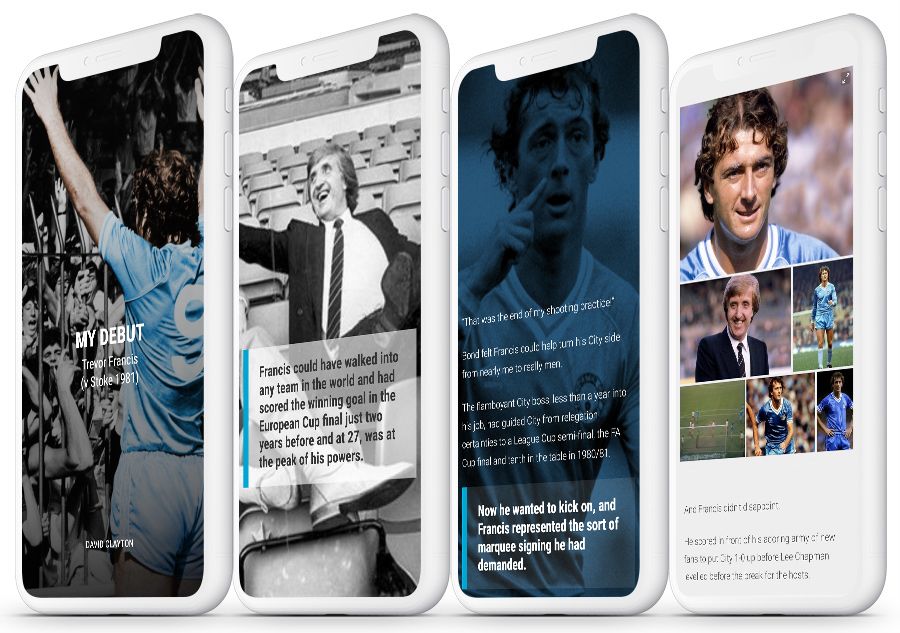 7. Storyboard before building
You wouldn't build a house without drafting a blueprint, would you? (Well, not unless you weren't too invested in the end-product.) Much like a blueprint, a storyboard helps you convert the vision inside your head into a concrete plan for construction. It can also contribute to your shot list for your photography project.
Storyboarding forces you to take a step back and evaluate how each element fits into the larger narrative. You may find that half your content is no longer necessary, and that's okay. It may seem like a barrier to "getting to the fun part" of adding fancy flourishes and creative details, but it's a critical step for building a good photo essay that genuinely influences viewers.

8. Experiment!
While there are certainly best practices to follow when creating a photo essay, no "one true path" will culminate in perfection every time. Photo essays are a way to express a story; such art is not limited to a template or cookie-cutter outputs.
So, mix it up! Test out different photos, filter effects, text, quotes, and visuals. Pretend you're playing with a Rubik's cube when you're storyboarding and shuffle the content around with abandon. There is no right way to draft a photo essay, and you'll never settle on one that you believe best conveys your story without a bit of experimentation. (Of course, your first iteration may end up being your best, but at least this way you won't have any doubts.)
9. Combine data and maps
Adding hard metrics and maps to a photo essay can help support a narrative in ways that photographs can't. In this essay on segregation in Detroit, NBC included interactive maps of the city that underscored the severity of Detroit's redlining policy.
These maps drive home this multimedia photo essay's primary takeaway: Detroit's enforced segregation has resulted in almost a century of lower quality of life for its black residents.

10. Get inspired
No matter how compelling the vision in your head is, you can still benefit from a little inspiration. If you're looking for photo essay ideas, consider:
Focusing on a single subject for a day (known as a day in the life photo essay).
Document local events, such as art shows, protests, or community gatherings — this is an endless source of photo essay topics.
Capture social issues from your local area.
Start a photo series, in which you document the same specific subject over a period of time.
Research the great photo essayists from history, such as W. Eugene Smith, and James Nachtwey.
Dive into the archives of the great photo essay magazines, such as National Geographic and Life Magazine.
Do some research on your potential subject. This will help you formulate different angles from which to approach your photo essay.
Sign up to Shorthand's newsletter, which rounds up the best visual stories on the web every other week.
Now, let's dive into how to make a stunning photo essay using Shorthand.

How to make a stunning digital photo essay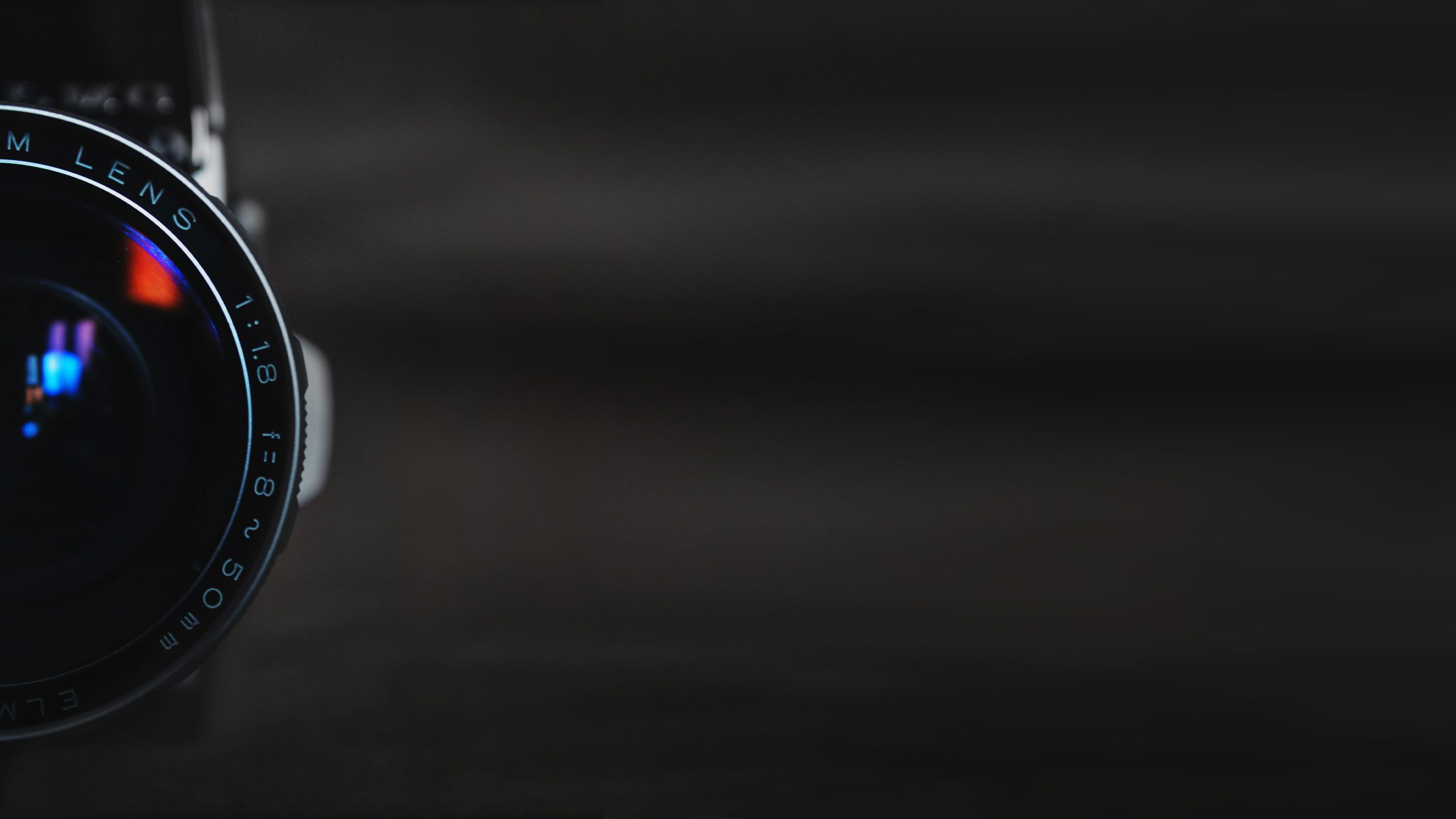 Traditionally, photo essays on the web were little more than a series of images pasted into a blog post. Because most blogs are structured primarily for words, these photos essays didn't do justice to their source media.
However, as web browsers became more powerful and bandwidth increased, a range of content platforms — including no-code digital storytelling platforms like Shorthand — have evolved to make it easier to create stunning visual stories. We've linked to many of these in this guide.
In this section, we're going to run through how to make a photo essay using Shorthand. If you're not a Shorthand customer, you can sign up here and follow along.

1. Create a new story
In your Shorthand dashboard, click 'New Story.' If you'd like, you can choose from any of our templates to help you get started. For now, though, we're going to start with a blank canvas.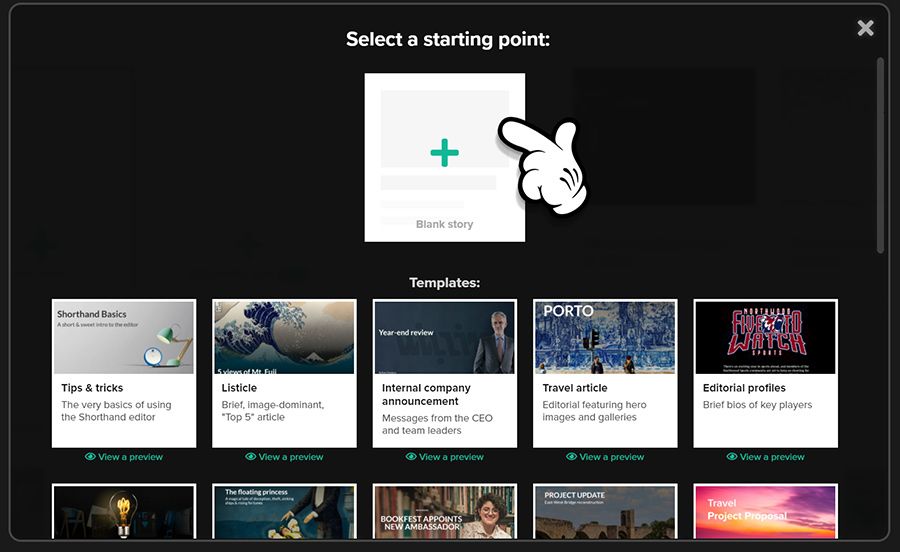 2. Add your title image
Every photo essay needs a stunning title image to hook the reader. Depending on what kind of photo essay you're creating, this could be a photo of the subject or theme of the piece. You can also choose to add a title, subtitle, and author.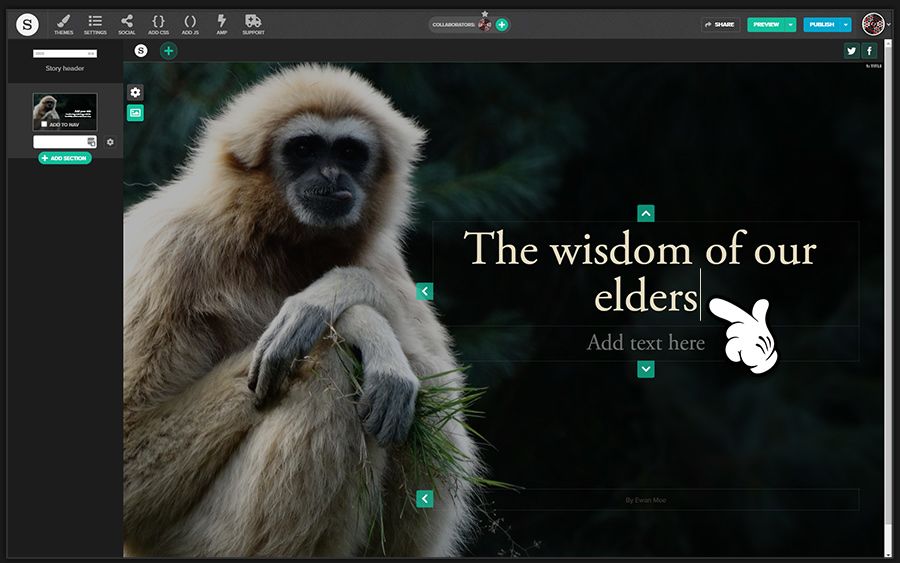 3. Add a text section
Every photo essay needs a written introduction, to help contextualise the images that follow. Simply click 'New Section' and 'Text', before pasting in your introductory copy.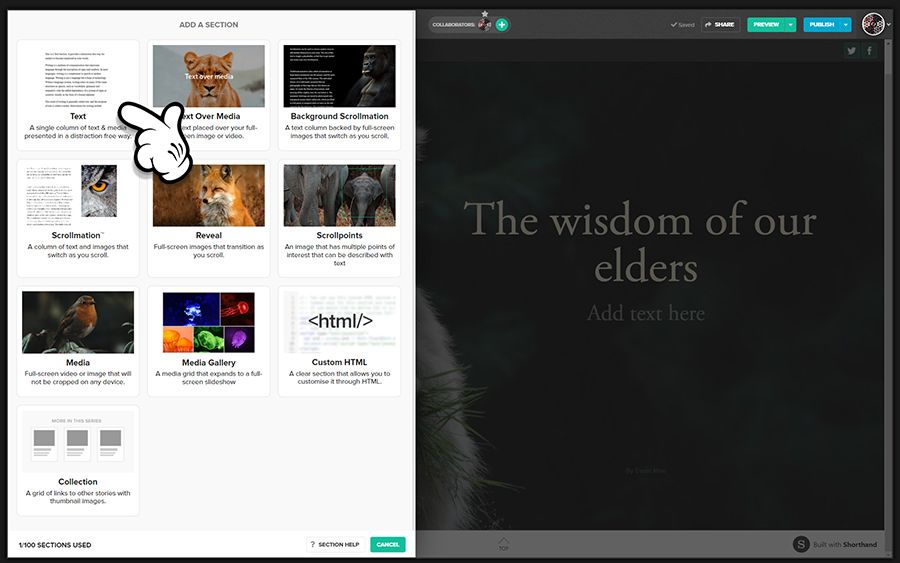 4. Add your first photo
Now it's time to add the first photo in your essay. Simply click 'New Section' and 'Media.' In photo essays, hierarchy is critical, so make sure you've thought about which photo is most appropriate at the top of your essay. In Shorthand, your photo will appear in all its full-screen glory.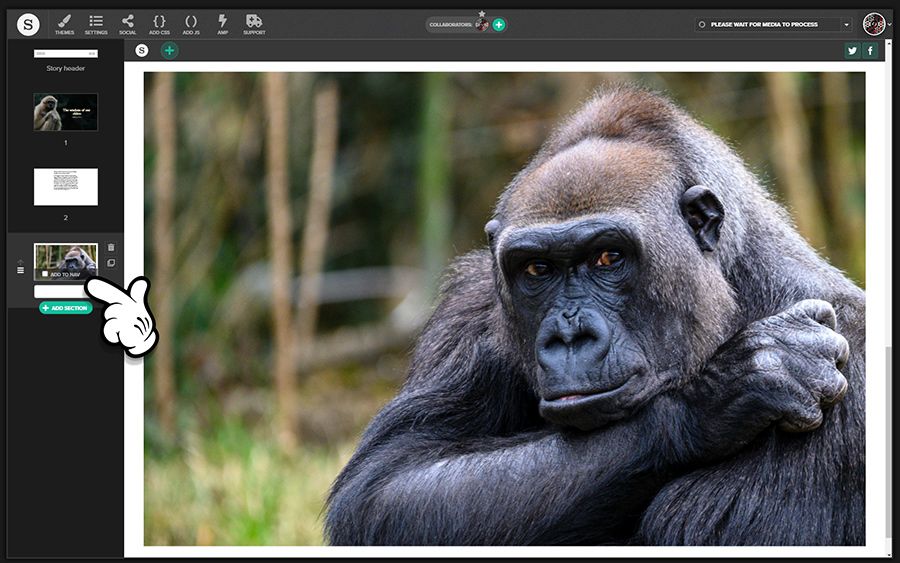 5. Add a Reveal section
You also have the option of adding a 'Reveal' section, which allows you to add text that floats over your images. This text can act as a commentary or de facto caption for each photo in your essay.
Simply click 'New Section' and 'Reveal.' You'll be able to also upload a version of the image for mobile, and set focus areas to make sure the most important parts of your image are shown.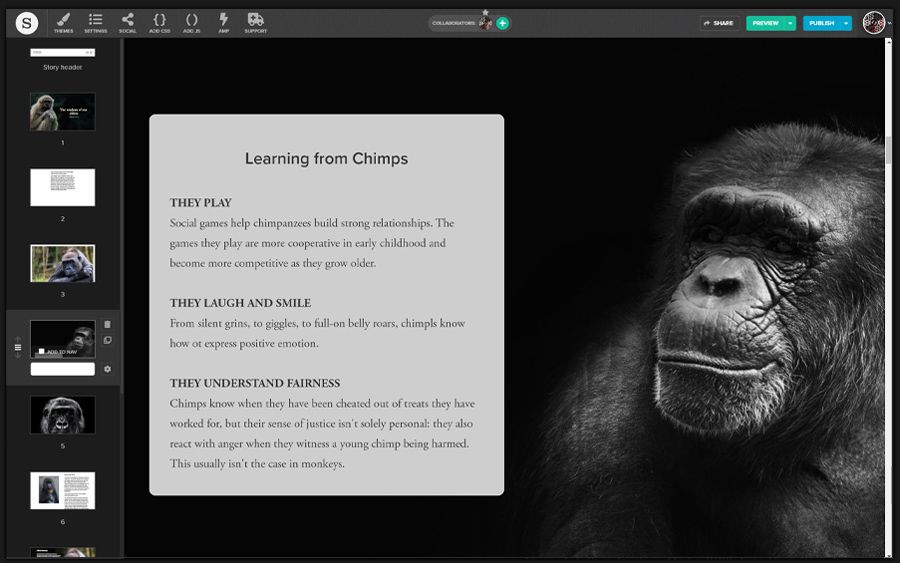 6. Add transition effects
Depending on the nature of your photo essay, you may wish to add transition effects between some images. A 'Reveal' section is the best way to achieve this. You'll have the option of choosing from several types of transitions that occur as your reader scrolls from one full-screen image to the next, and each image can have its own text box, too.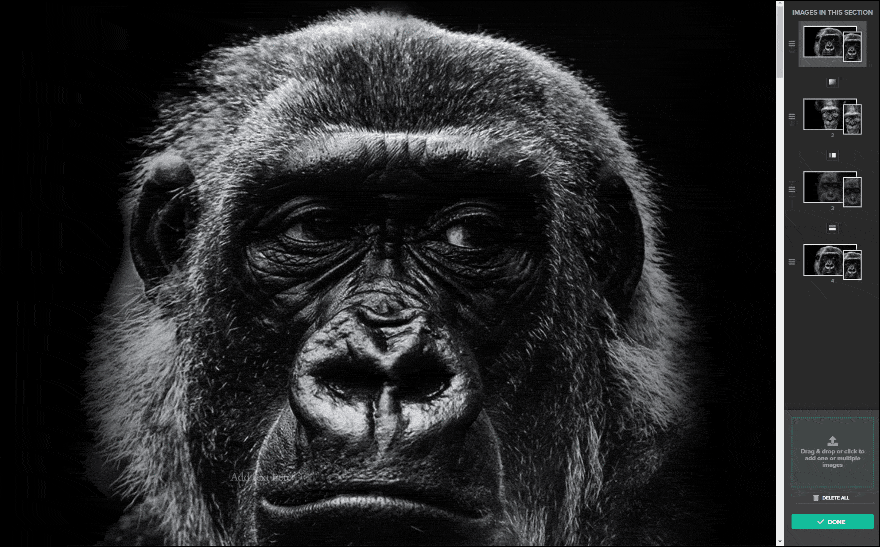 7. Add Scrollmation effects
If you want to use images in concert with large amounts of text, then consider using Shorthand's Scrollmation feature. This allows you to transition through a range of images as the reader scrolls down a column of text.
To do this — you guessed it — simply click 'New Section' and 'Scrollmation' or 'Background Scrollmation.'
The difference between the two is simple: In a Scrollmation section, the text appears in a column beside your images, while in a Background Scrollmation section, images fill the screen and the text column appears over the images. A sequence of related images can give the effect of animation triggered by the reader's scrolling.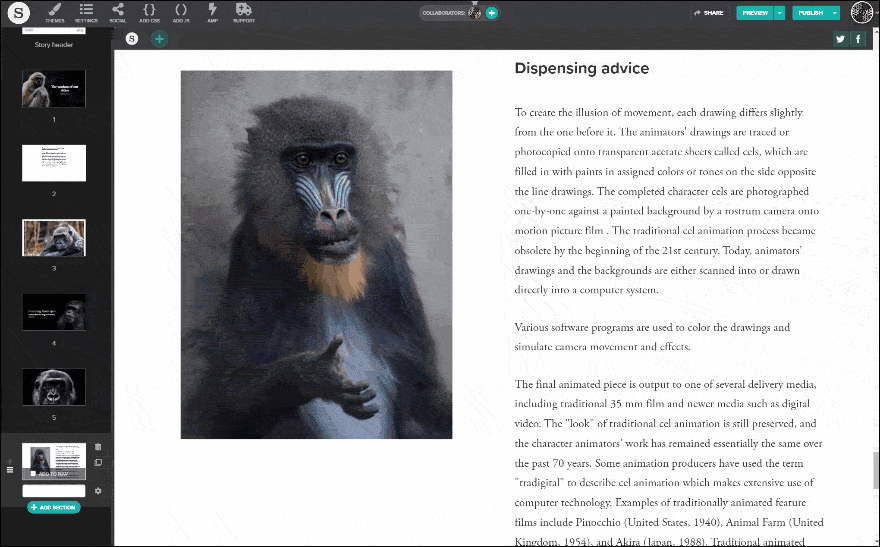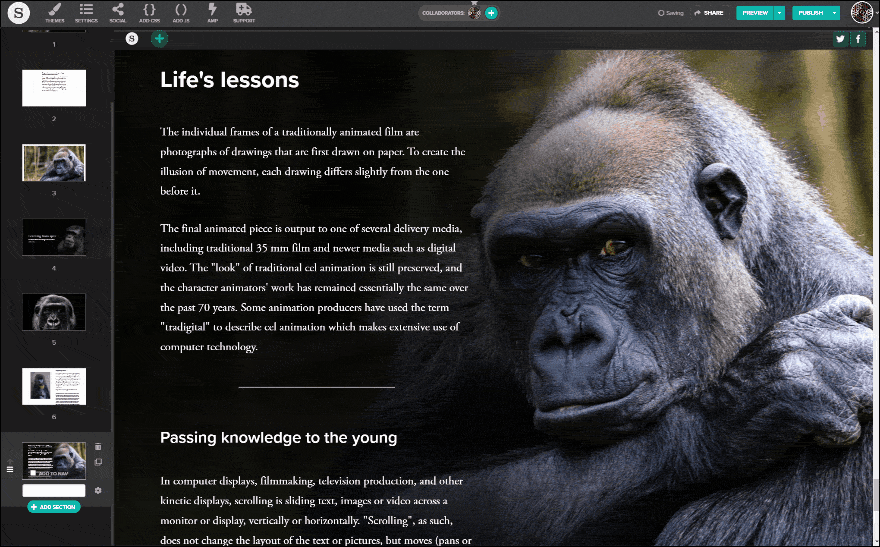 8. Add a Media Gallery
If you have many different images, and want to create a mosaic effect in your essay, then you can use a media gallery. To do this, simply click 'New Section' and 'Media Gallery.'
You can then upload your images, and experiment with their size and arrangement to achieve your intended effect.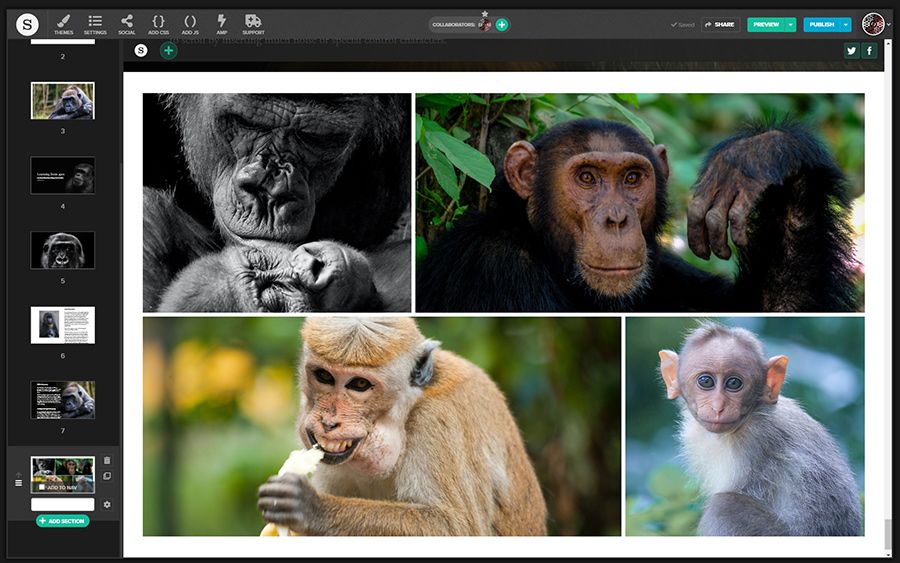 9. Preview your story
Photo essays — more than many other genres of content on the web — can run into problems with different screen sizes. Before you publish, make sure you test your story using Shorthand's preview option.
You'll be able to see what your story looks like on desktop, mobile, and tablet viewports, and make adjustments as needed. You can also share your preview link with collaborators, and get pre-publication feedback and quality-assurance.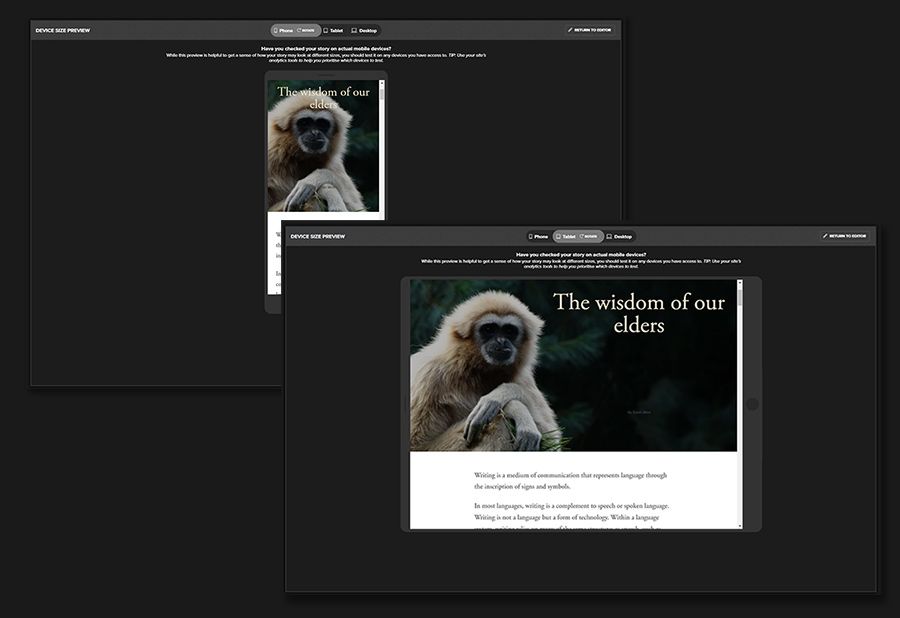 10. Publish 🚀
The final step is to publish your essay to the world! You now have an immersive, potentially interactive photo essay — without writing a line of code.
Contemporary photo essays are creative endeavours rife with opportunities for interactivity. Organisations and artists alike use them as modern, impactful vehicles to convey powerful stories. Try creating one for yourself using Shorthand for free today!