How to monetise your content
A guide for content businesses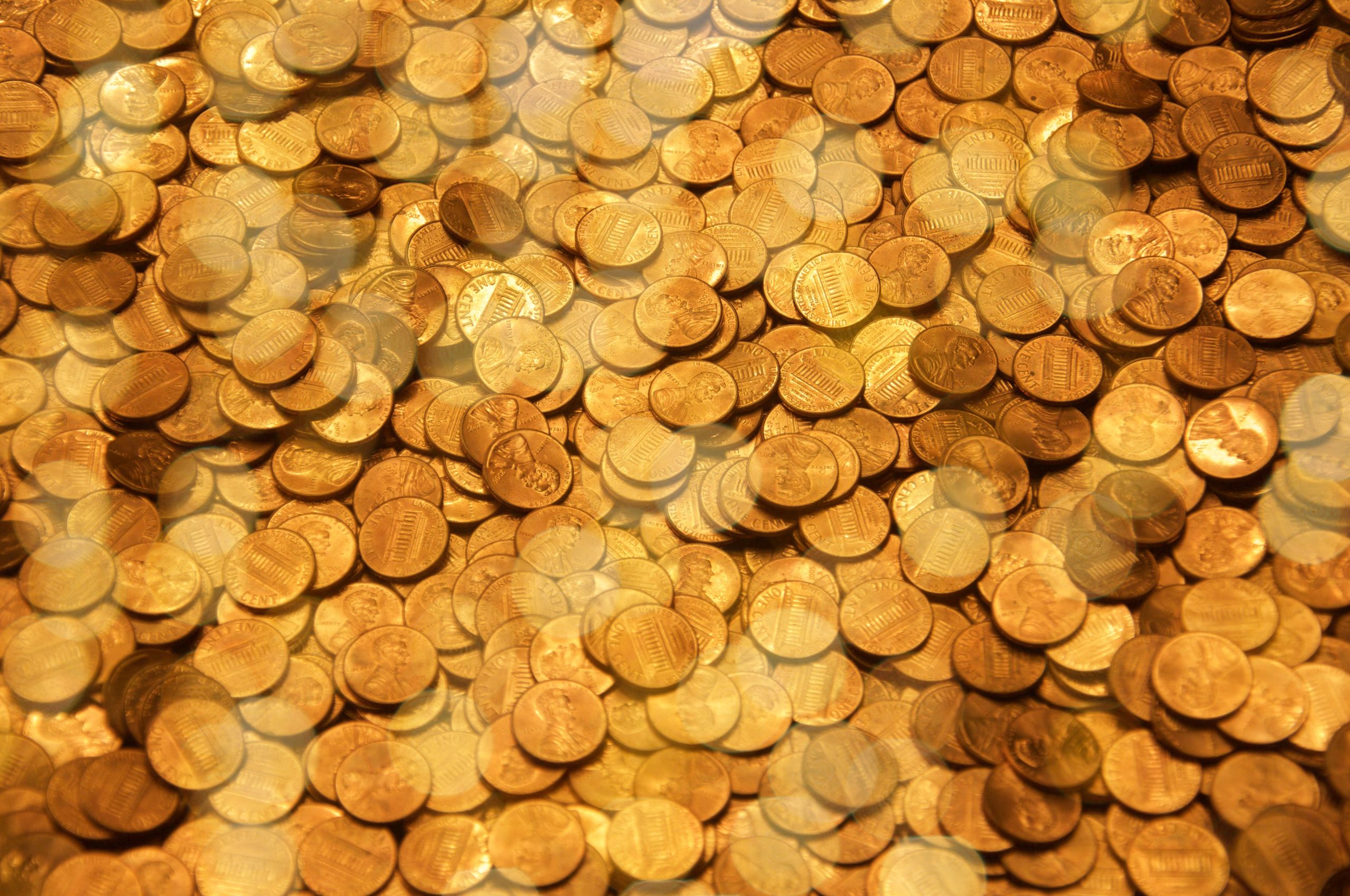 For most businesses and content creators, finding the right content monetisation strategy can feel like a tall order.
As we all know, technology is evolving at a rapid rate. Devices are getting more powerful. Payment providers are removing (most) friction from digital transactions, making it easy for consumers to pay for content. Digital advertising is becoming more competitive. And high-quality content is easier than ever to create.
This is allowing the rise of new content business models, including digital advertising and subscription paywalls.
But which business model should you choose? In this guide, we're going to run through everything you need to know to choose the right business model for your content business, including:
What is content monetisation?
What are the main content monetisation business models?
The key elements of a successful content monetisation strategy.
Let's dive in.
What do the BBC, Tripadvisor, and Penguin have in common?

They craft stunning, interactive web content with Shorthand. And so can you! Publish your first story for free — no code or web design skills required.

Sign up now.
What is content monetisation?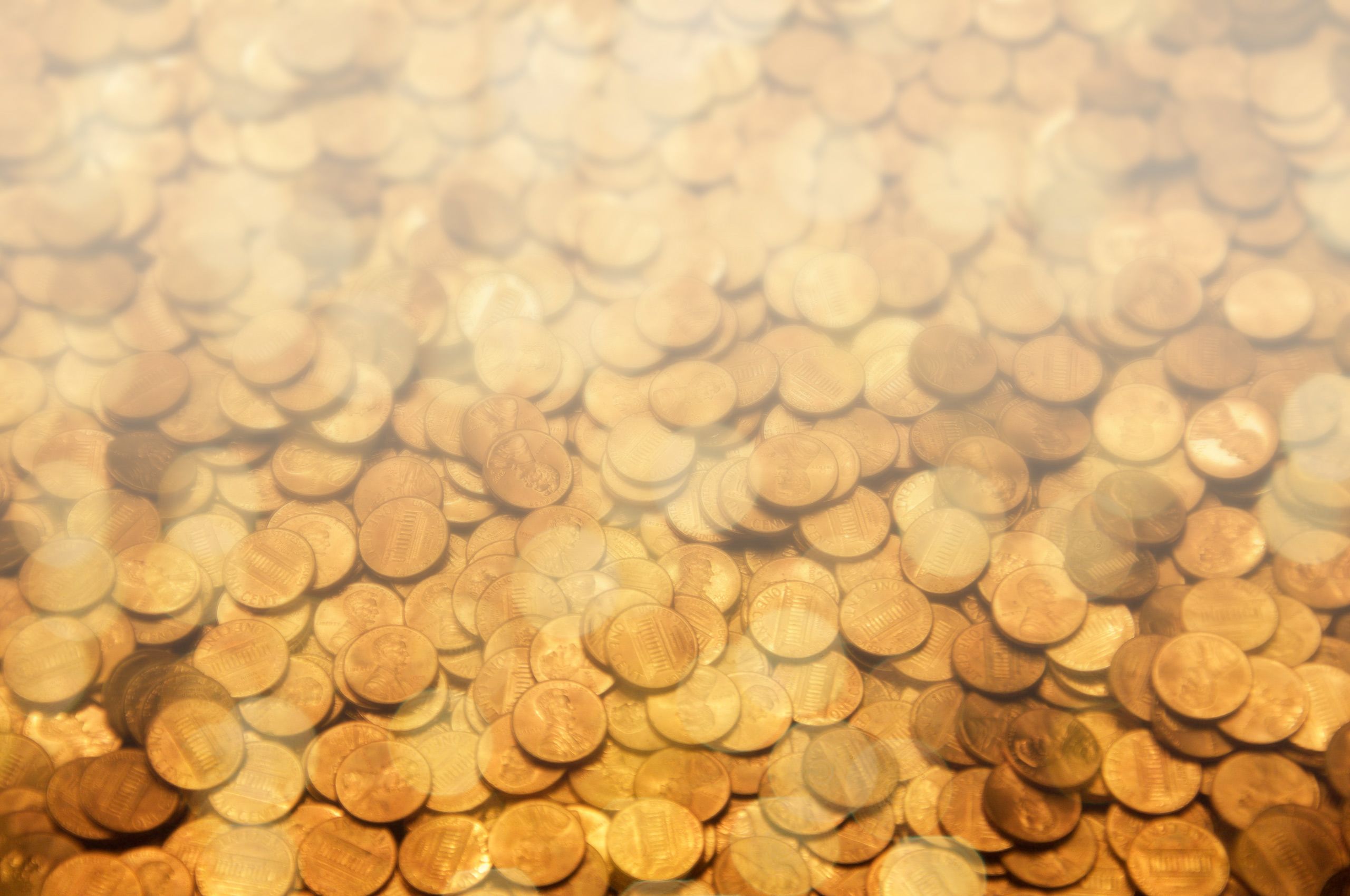 Content monetisation is the process of producing and distributing content for revenue.
To monetise content, your business needs three things:
Content (obviously)
Distribution
Payment
Let's take a close look at each of these three variables, and how they're changing.
Content creation
As technology evolves, the barriers to content creation are getting progressively lower.
The most obvious example of this is the devices we carry around in our pockets. Not too long ago, video production and distribution was hugely expensive, and simply wasn't available to most businesses. Today, tech-savvy child can shoot a high-resolution video with a phone and send it around the world.
This means two things:
Your business can produce more online content, in more formats, more easily. Today, this can include anything from books, articles, and courses to podcasts, videos, and social media posts.
So can everyone else.
The takeaway:
It's much cheaper for everyone to make high-quality content, which means you need to keep innovating to stay ahead of the competition.
Content distribution
Obviously, most new content businesses today are going to share their content using the internet. Even businesses looking to distribute print content will need to use digital technologies to manage content distribution.
Your options for content distribution include:
Your website
This is the most common form of content distribution, and is the one that most media companies and larger content businesses are likely to use.
Websites have enormous flexibility in terms of content design and presentation. You also own your own website, which is much less risky than hosting your content business on a third-party platform, as these platforms can change their rules and policies at any moment, to the detriment of your content business.
Email
With the rise of Substack, Ghost, and a multitude of other providers, email has become a popular platform for content distribution.
The great benefit of email content is that its rates of engagement and conversion are much higher than any other channel. The downside of email is that you have a limited range of options for content design and presentation.
An app
An iPhone and Android app is a great way to distribute content directly to your reader's device.
The main benefit of an app is that it allows you to control exactly how your content is consumed, without some of the complexities of publishing content on the web (such as old web browsers). And as technology evolves, apps are also becoming easier to build.
The downside of apps is that they are still expensive to create and maintain. Also, if you don't have a large audience and a high volume of content, it's going to be extremely difficult to convince anyone to download the thing in the first place.
A social media platform
All content businesses need to have a presence on social media platforms, such as YouTube, Instagram, Facebook, Pinterest, TikTok, and LinkedIn.
Social media platforms are a useful way to generate leads and establish the brand identity of your content business. However, be wary of relying too much on these proprietary platforms to monetise your business. All of these companies can — and do — change their rules and algorithms to suit their own interests.

The takeaway:
Content distribution is perhaps the biggest decision your business is going to make, and for most businesses it's going to involve some version of 'all of the above.' Whatever you choose, remember the golden rule: Own as much of the infrastructure as you can. This is the best way to create a sustainable content business.
Payment
Perhaps the greatest innovation for content businesses in the last decade is payment technologies. Some of the most exciting innovations include one-click payments, secure online transactions, and effective paywalls. With the removal of friction in online payments, consumers have become much more likely to pay for content.
The great challenge with online payments, though, hasn't necessarily been the technology. It's been the audience themselves, who have been trained — for literally decades — to believe that all online content is free.
The good news is that, as technology has evolved and the largest media companies on the planet have implemented paywalls, online audiences are getting used to paying for content.
Learn more about your options with our roundup of the best paywall providers for your content business.

The takeaway:
It's a great time to be monetising content on the web. Payment technologies have become relatively seamless, and consumers are gradually learning that high-quality content isn't free.
7 ways to use content to drive revenue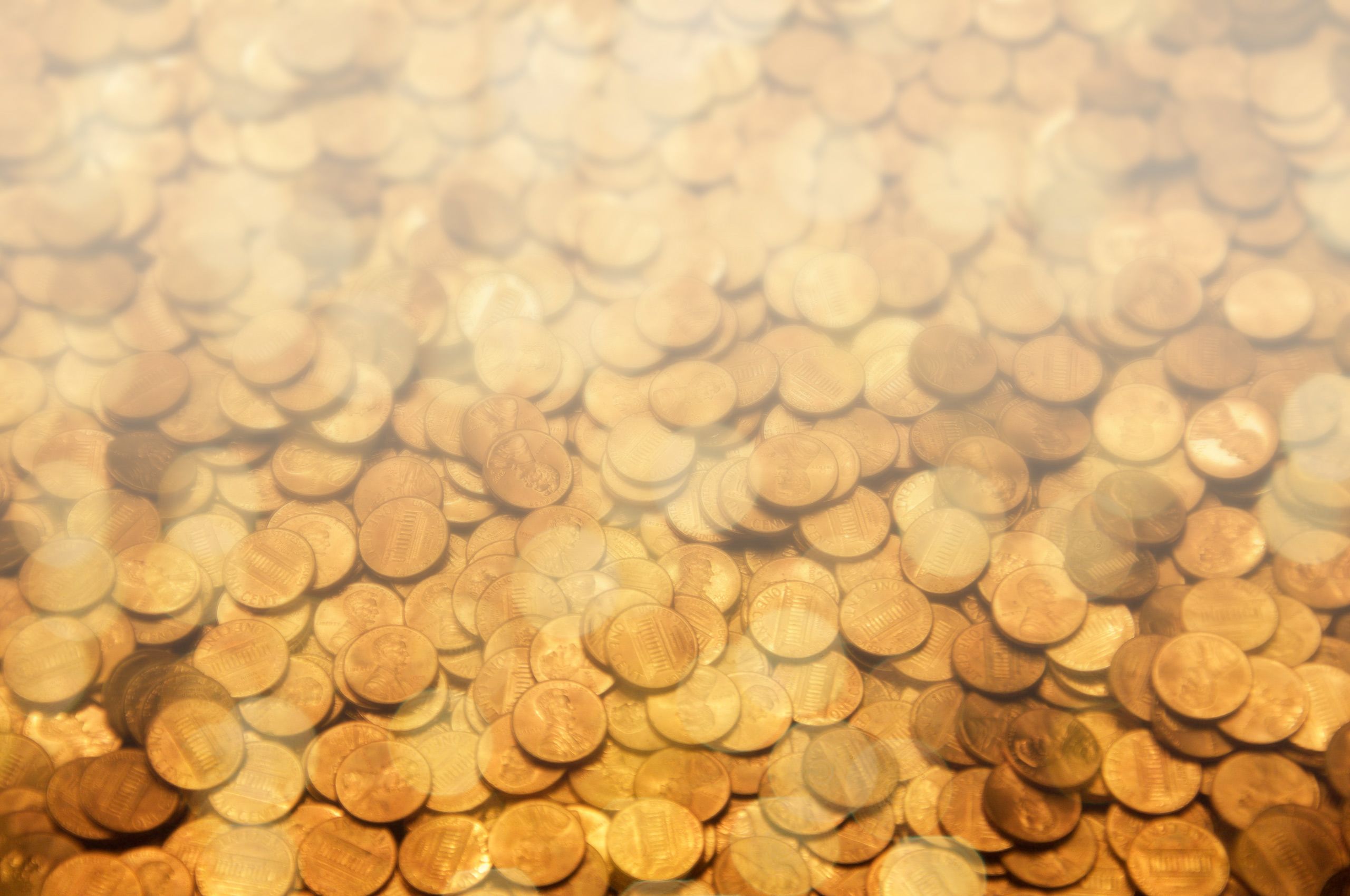 #1
Digital advertising
If you want a low-effort way to start monetising content, digital advertising is a simple first step. This method allows digital ads to set up shop alongside your content. You earn a (small) commission when a reader clicks on the ad.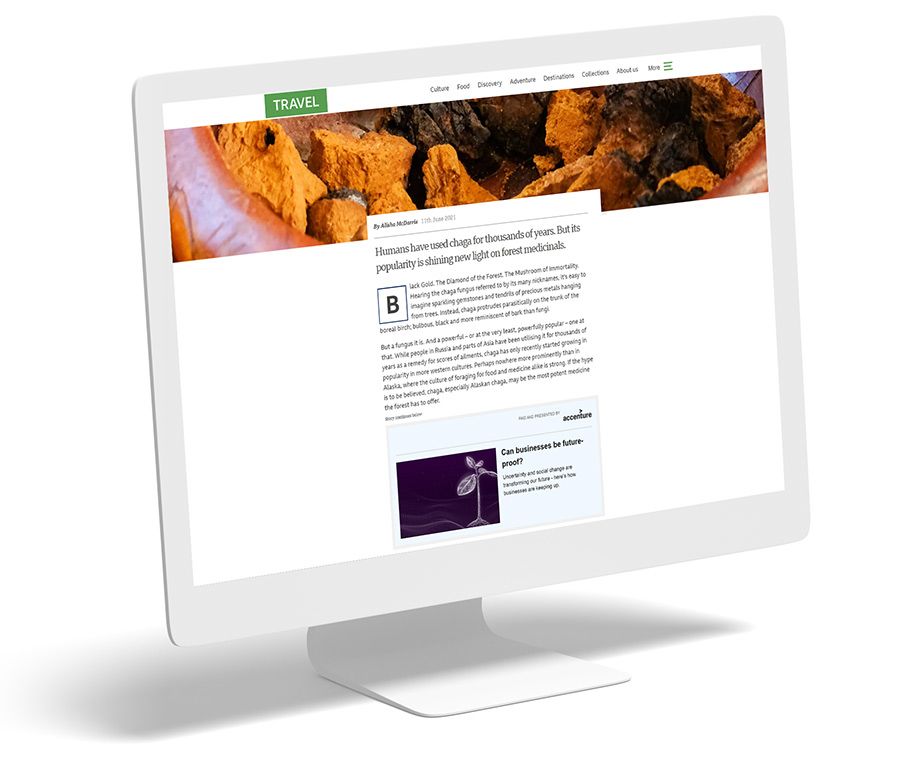 Typically, you'll work with an ad network like Google AdSense that automatically changes display ads for each visitor. Your team won't need to do much to start making money with digital ads, but there is a downside — CTR benchmarks are 1% or less.
There are other advertising options, including sponsorship. Note that these typically require you to develop direct relationships with partner brands, which is much higher overhead than the self-serve model of products like Google Adsense.
The bottom line:
Digital ads are a low effort content monetisation strategy that can add a supporting revenue stream. But unless you have a lot of traffic, ad revenue is difficult to scale.
#2
Subscription paywalls
A subscription paywall restricts content for paying customers only. There are a range of options here — from freemium and 'soft' paywalls to 'hard' content gates — which we outline in more detail in our guide to subscription paywalls.
The New York Times is a leader of this content monetisation method, with its digital earnings outpacing print revenue in Q2 2020. The publication added 669,000 digital subscribers in that time and earned $185.5 million.

This monetisation method isn't just for industry giants, though. With membership platforms like Patreon and online course platforms like Podia, it's getting easier for anyone to implement paywall technology. If you want to make this method work for you, though, you need content worth paying for.
Your pricing model will depend on the kind of content you are creating, as well as the demographics of your audience. Specialist content publishers — particularly those focused on finance and business — can often charge much higher rates than generalist publications.
The bottom line:
If you create high-quality content, subscription paywalls are a proven way to turn a profit.
#3
Memberships
Not ready to commit to putting most of your content behind lock and key? Then memberships could be your monetisation strategy of choice. In this model, visitors have open access to all of your content but can choose to pay for additional features, or to simply support your mission.
For example, The Guardian gives readers the option to pay $19.99 a month for an ad-free digital subscription with premium content access.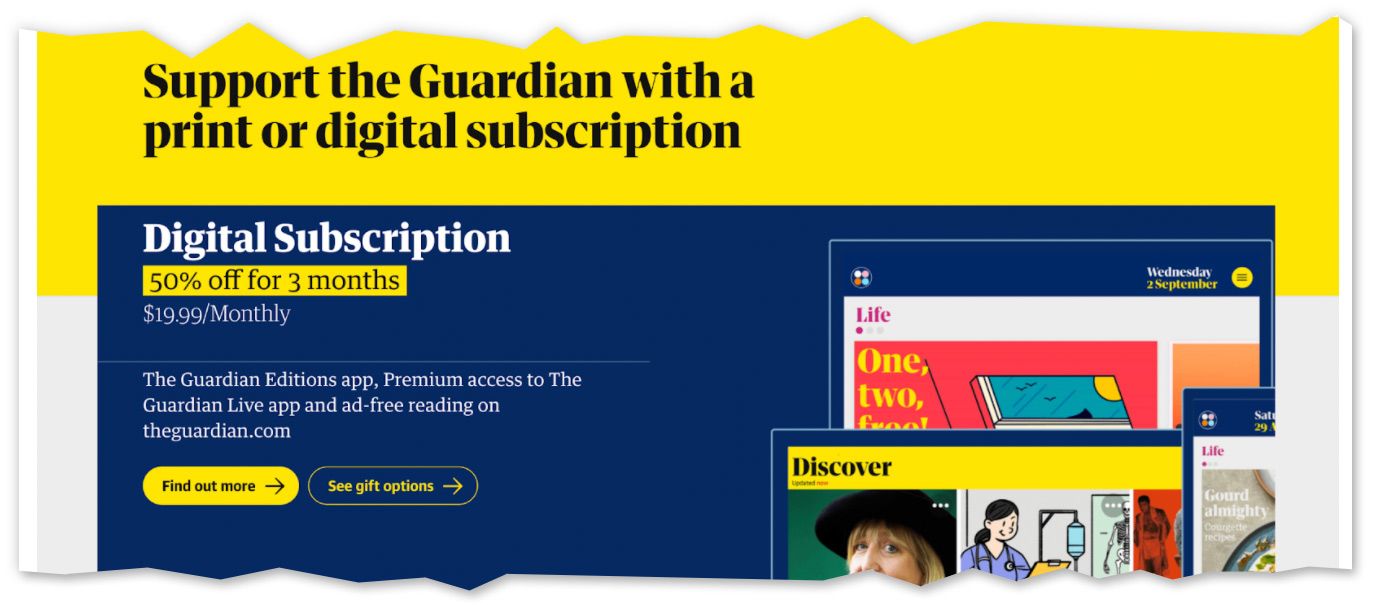 Content memberships work well as part of a content monetisation mix. One option is to run memberships alongside digital ads, to get the best of both worlds.
The bottom line:
Memberships are useful if you want everyone to access all of your content, but there has to be a compelling reason to pay for additional access or features.
#4
Native advertising or sponsored content
Native advertising is branded content that looks and feels like the 'native' content on a publication's website (or an influencer's Instagram feed). When done well, native advertising introduces your brand or product to readers in a way that feels more like an experience than an ad.
For example, Gucci introduced a new collection with a digital story on fashion publication Savoir Flair's website.
Since native advertising works as a form of promotion for your company, you can use this format to raise brand awareness or drive sales of a product.
Learn more in our guide, 6 examples of effective native advertising.
The bottom line:
Immersive native advertising can increase engagement and boost sales.
#5
Licensing
With licensing, quality content that's sitting idly on your site can have a second life. When you license your content, you give another company or publication permission to republish it on their site for a fee. The New York Times has an entire licensing division that creates articles, graphics, and images that companies can use in their marketing efforts.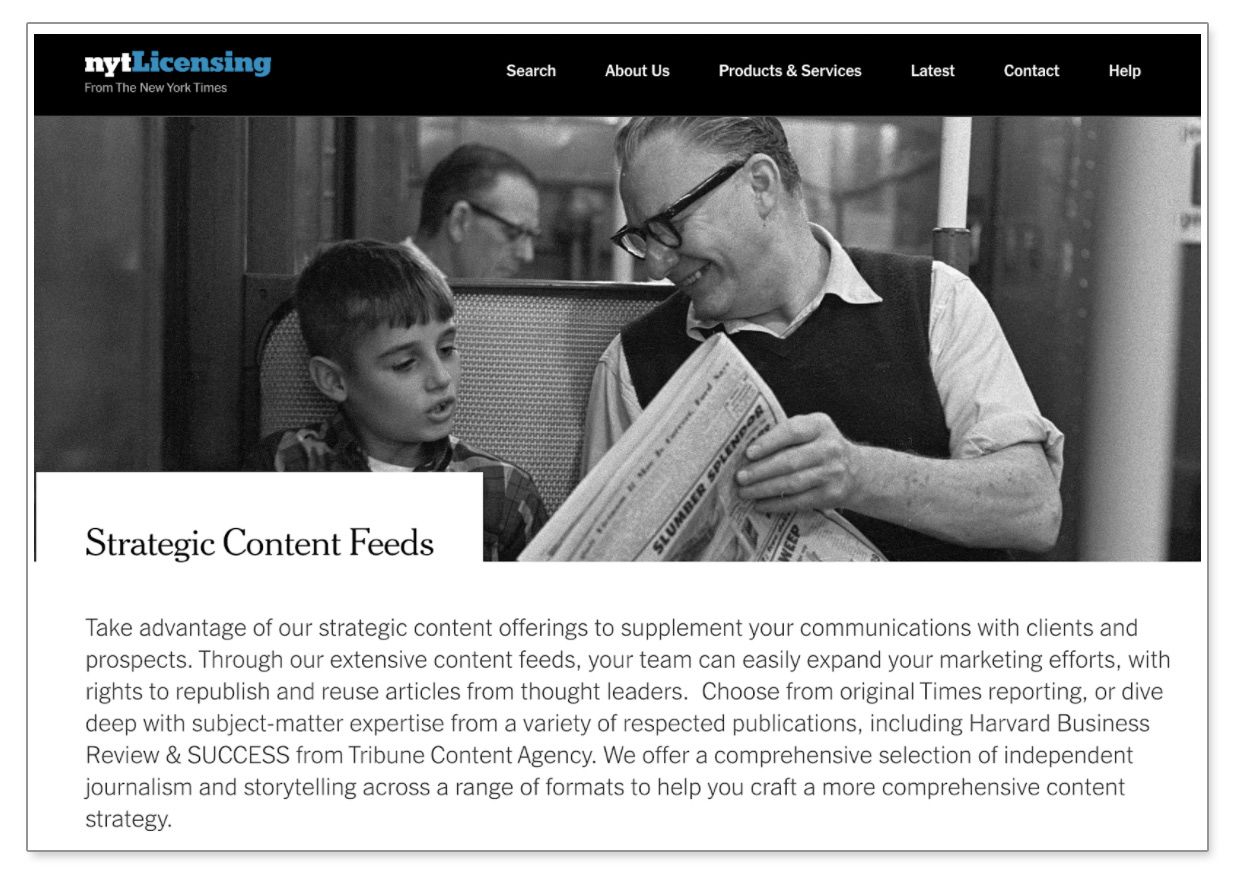 Using licensing to monetise your content could be a viable option if you have a high-quality catalogue to choose from, or if you regularly create content. Note that setting up the programme and selling licences will require some upfront work, as content licences are legal agreements.
The bottom line:
Content licensing lets you leverage existing content, as long as your team is comfortable managing licence contracts.
#6
Content marketing to promote your product or service
For companies that sell other products and services, content can be effectively 'monetised' by generating and nurturing leads. Content marketers use product launch blog posts, case studies, white papers, and ebooks to promote their ecommerce product or service.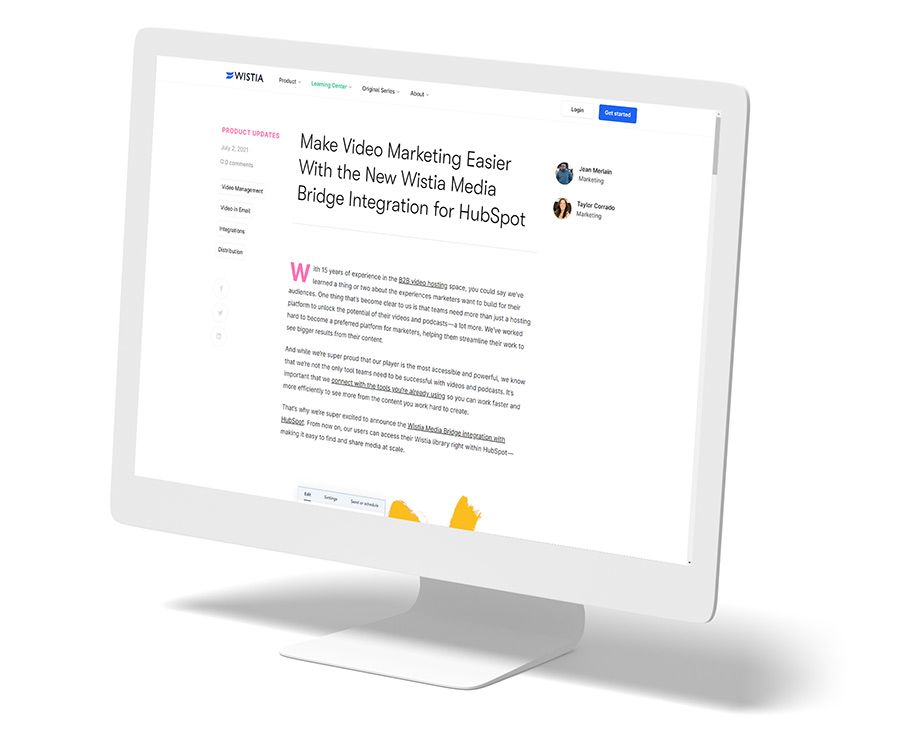 One challenge to using content to drive revenue is that attributing earnings to a piece of content can be tough, particularly if a customer has multiple touchpoints before converting. There are other metrics you can use to monitor the success of the content, though, such as the number of leads you generate, or the on-page read time you enjoy.
Multimedia digital storytelling is one of the most effective modes of content marketing. When Honda used Shorthand to create interactive content, they saw a 32% ROI and 600% increase in email subscriptions that they could leverage moving forward.
The bottom line:
Free content marketing is a great way to generate and nurture leads for businesses selling non-content products and services.
#7
Affiliate links
If your content regularly refers to products other than your own, affiliate marketing can help you make money by recommending items. If someone uses the link in your content to view an item and eventually purchase it, you make a commission. This strategy is very common with bloggers, and is a popular source of revenue for digital publications.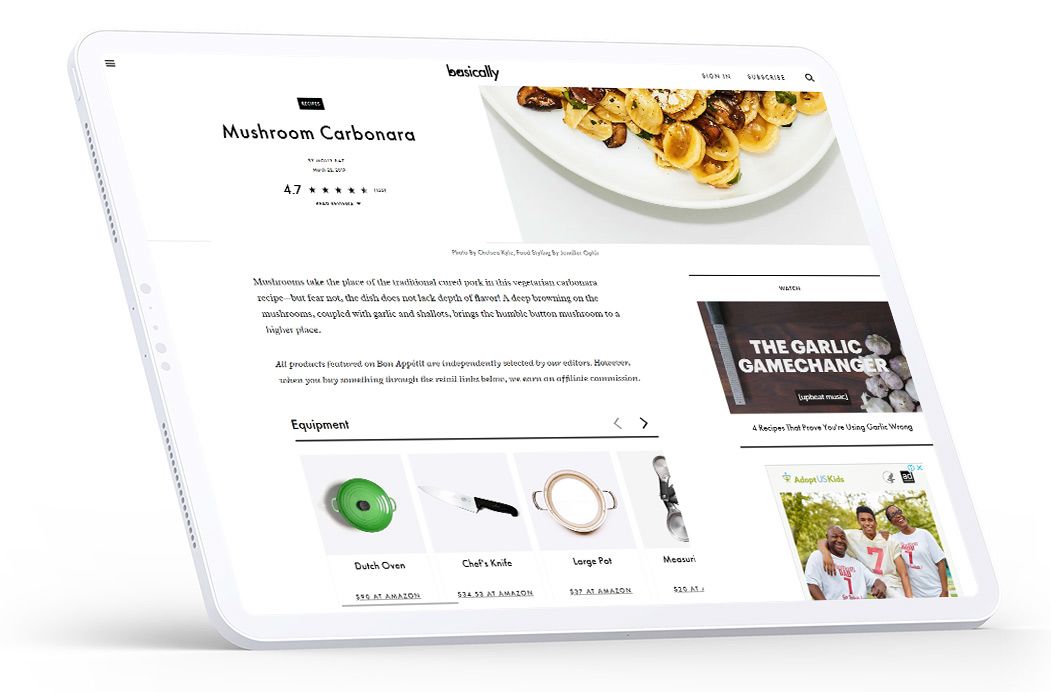 Bon Appétit regularly features kitchen tools on its recipes and indicates that they receive an affiliate commission for purchases on Amazon. In the U.S., The Federal Trade Commission requires businesses to label affiliates, and you should check applicable law where you live.
The verdict:
Including affiliate links for items you truly recommend can generate revenue, but use affiliate links sparingly, and always communicate affiliate relationships with your readers. Otherwise, your recommendations will start to look disingenuous, and you may suffer reputational damage.
What goes into an effective content monetisation strategy?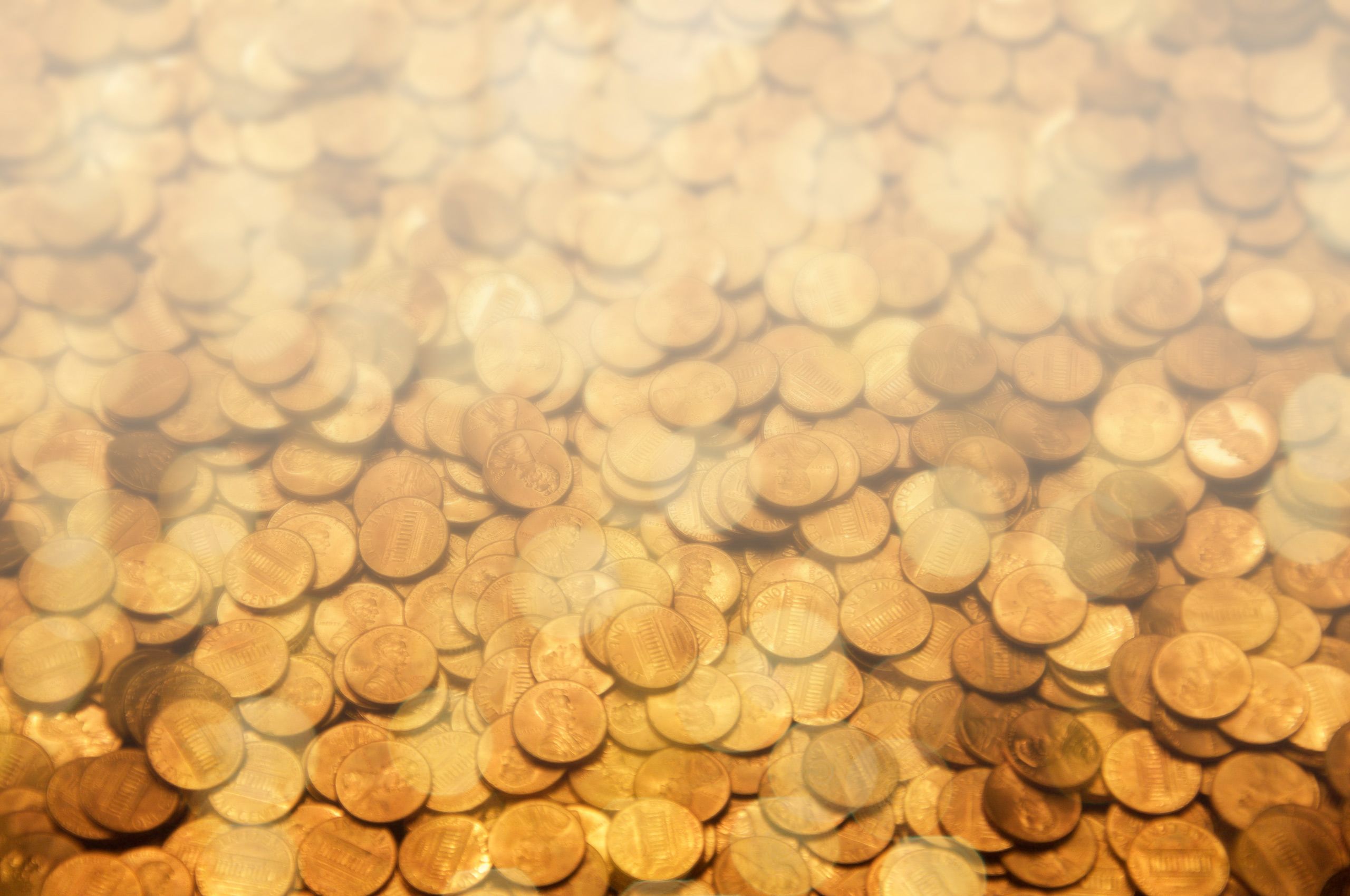 When you adopt a new content monetisation strategy, there are three essential elements you need to keep in mind.
Content quality
It's hard to monetise low-quality content, and impossible to create a sustainable content business. If you're asking customers to pay to access your content, it needs to be worth the investment. No matter which content monetisation strategy you use, quality content is a must.
Goal alignment
Not every business has the same goals at the same time, so make sure your content goals align with your wider business goals. For example, if your company wants leads, you can use native or in-house content to drive traffic to a landing page. Companies that want to turn their content into a revenue stream should focus on paywalls and memberships.

Audience experience
The final consideration for an effective content monetisation strategy is the audience experience. What does your audience like to see and engage with? Where do they look for information? How can you help them? The more engaging your audience finds your content, the more likely they will be to give you their money.
Steph Knapp is a freelance B2B + SaaS content marketer that loves educating and empowering curious humans. When she's not typing away, you'll find her volunteering at the animal shelter and obsessing over a new hobby every week.
Looking to monetise your content? Shorthand offers a no-code or code-optional way to bring your content to life.
Follow the lead of global brands like Honda, the BBC, and Doctors Without Borders to create unforgettable content with Shorthand.