An introduction to interactive marketing
— with five stunning examples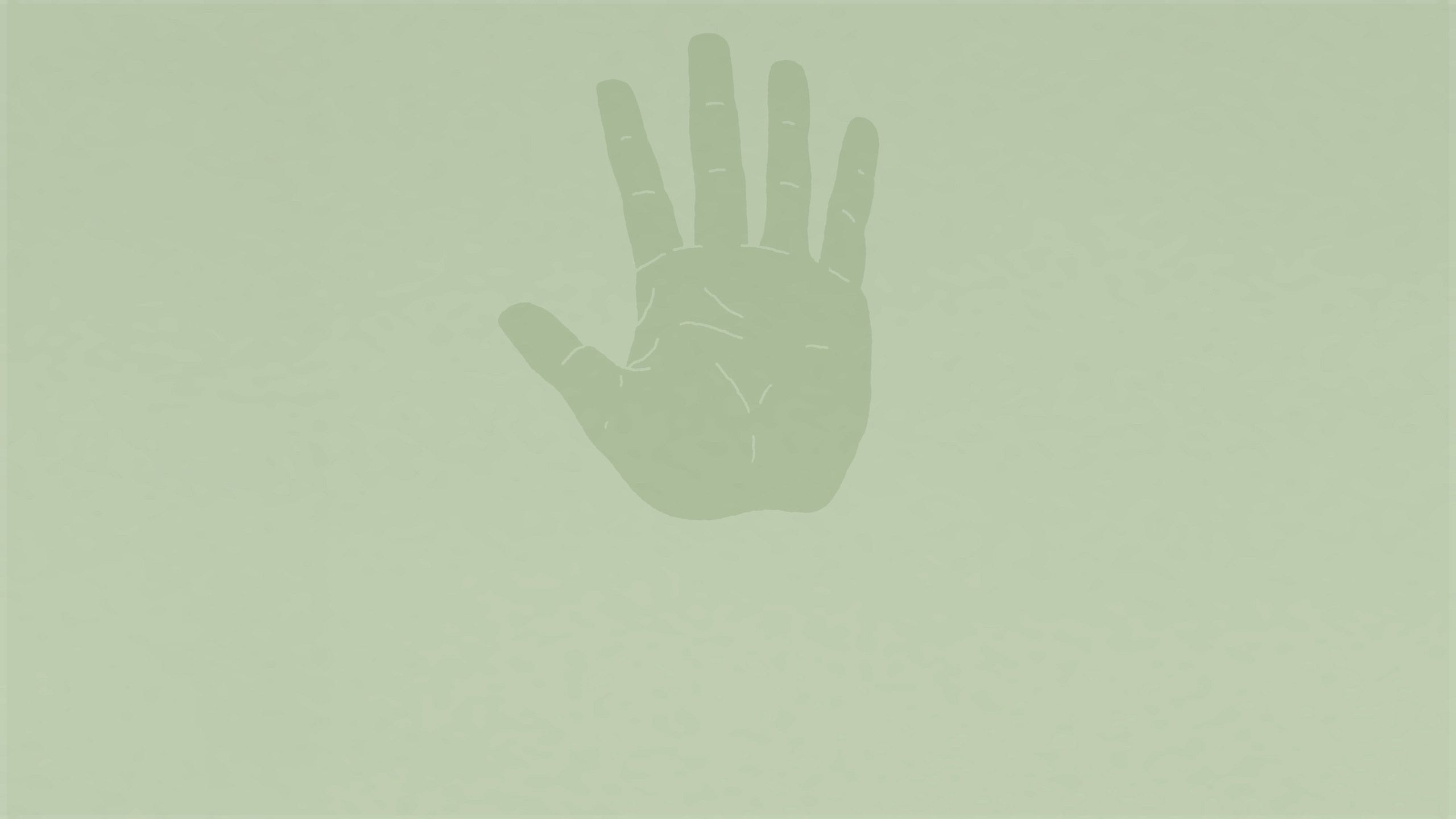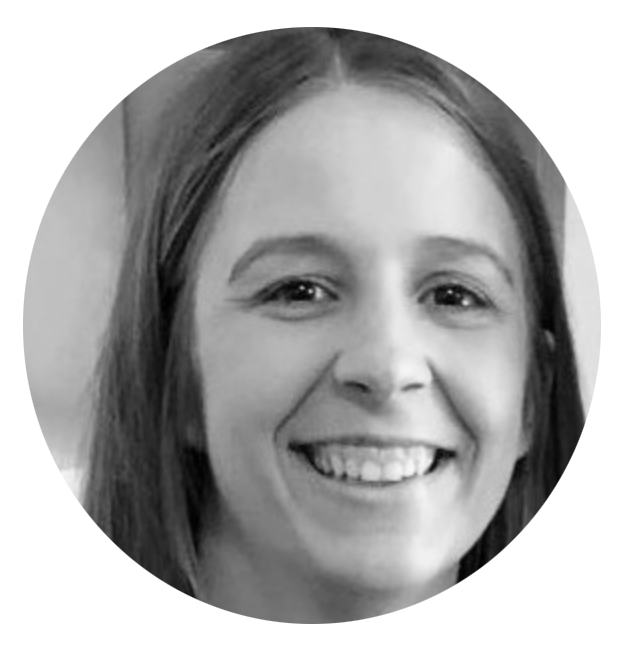 By Kimberlee Meier — Contributing Writer
Interactive marketing represents the future of marketing on the web.
But so far, there's been a gap between what interactive marketing promises and what companies have delivered. We've seen many early experiments being merely gimmicky or over-engineered — and then failing to bring in results.
We know reader expectations are rising. So are the technical possibilities driven by better browsers, faster internet, and more advanced platforms. So why is most marketing content — and marketing strategy — more or less unchanged?
We need to get more creative when producing interactive marketing content. 93% of marketers believe that interactive content is more effective at educating customers than static content. The data backs them up: interactive content generates 4-5x more page views and 2x more conversions than traditional marketing.
In this guide, we walk you through:
What is interactive marketing?
The problem with most interactive marketing
The rise of scrollytelling
5 interactive marketing examples for inspiration
How to get started with interactive marketing
Let's begin.👇
Looking for more interactive marketing inspiration?
Join 15,000 other content creators and get the best immersive content on the web in your inbox.

What is interactive marketing?
Interactive marketing is digital marketing content that allows the reader to take control of — or interact with — visual elements, usually by clicking or scrolling.
With interactive content marketing, marketers can create more engaging content and overcome one of the industry's biggest problems: keeping the attention of their audience.
There are many different types of interactive marketing content you can produce, including:
📜 Scrollytelling: This form of interactive marketing allows content creators to turn static material like blog posts and landing pages into more engaging pieces. As the reader scrolls, textual content is interspersed with pull-quotes, multimedia, data visualisation, and interactive infographics, some of which may be progressively animated during the scroll. You can read more about interactive infographics in our guide.
🤝 Quizzes, games, and forms: One of the simplest and most common forms of interactive marketing uses embedded elements — like quizzes and games — to make the reader feel more involved in the pieces they're reading.
💬 Multimedia storytelling: Marketers can also add elements like video, audio, and animated GIFs that are triggered by user interaction to create more dynamic and enjoyable multimedia stories.
📧 Email marketing: Email can be interactive in two ways. First, marketers can embed interactive content directly in the email itself. Second, marketers can use behavioural signals in marketing automation software to send targeted emails to potential customers — particularly common in ecommerce.
The potential benefits of interactive marketing are clear. The problem is, like lots of content on the web today, much interactive marketing is struggling to hit its mark.
Looking for inspiration? Check out our roundup of the best interactive content examples on the web.

The problem with most interactive marketing
There are five main problems with most interactive marketing today.
1. It's gimmicky
Interactive elements will capture the attention of the reader, often at the expense of other content on the page. For this reason, they need to be used sparingly and with intention. Too often, interactive elements are introduced as a gimmick for the sake of it.
2. It's over-engineered
Again, interactive elements need to be used with intention. There's no point building an expensive interactive experience without having a very clear reason for it existing. Otherwise, the result can be amazing-looking interactive marketing campaigns and bespoke digital experiences that lead to underwhelming results. Which brings us to our next point...
3. It's expensive to change
Too often, interactive marketing content is produced by developers. Bespoke interactive content can be eye-wateringly expensive to produce, so it's hard for companies to adjust or improve once it has been published and data has come to light on how audiences are reading and interacting (or not) with it.
4. It doesn't scale
Interactive marketing content produced by developers has one other major drawback: it doesn't scale. Even if you can secure a developer or two for a single campaign, it's rare for marketing teams to have developers on call to produce bespoke interactive content on an ongoing basis.
5. It asks too much of the audience
Let's face it: most of your audience, most of the time, isn't paying that much attention to your content. For this reason, it's important that interactive marketing doesn't ask too much of the reader. Here's a simple example: websites have trained us for decades to scroll vertically to access content on a web page. Interactive content pieces that require other forms of interactivity — such as Google Web Stories, which require the user to move horizontally through a story — may experience less than stellar results.
The rise of scrollytelling
Scrollytelling is the Goldilocks of interactive marketing.
When a reader scrolls a scrollytelling story, the movement triggers audio, video, and animation effects within the content. This technique is perfect for breaking up long-form text into more digestible pieces, and drawing attention to important parts of a story.
One of the most famous early examples of scrollytelling is Snow Fall, a longform feature story from the New York Times covering the 2012 Tunnel Creek avalanche (a story which won a Pulitzer Prize.) Since then, the Times has continued to invest in scrollytelling, such as this recent story explaining the complex structure of Syria's civil war.

Yet there was a catch to this new, engaging form of content — it was expensive, and took a long time to produce. The "Snow Fall" story took developers (plural) more than three months.
Unfortunately for most — if not all — other media companies and marketing teams, three months of bespoke development is about 3 months more development time than they have in their budget.
Interactive marketing at scale
As a result, a range of interactive content and digital storytelling platforms have developed no-code (or code-optional) solutions, including Shorthand.
These platforms are able to produce digital-first, web-friendly interactive content, often at a fraction of the cost of bespoke developers.
Importantly, digital storytelling platforms allow marketers to create highly visual content without resorting to the dreaded PDF. This means that they can tailor their interactive content for SEO (search engine optimization), and also maintain accessibility.
Now that know more about what interactive marketing is, let's take a look at how 5 companies have taken advantage of interactive marketing to engage their audiences.
5 interactive marketing examples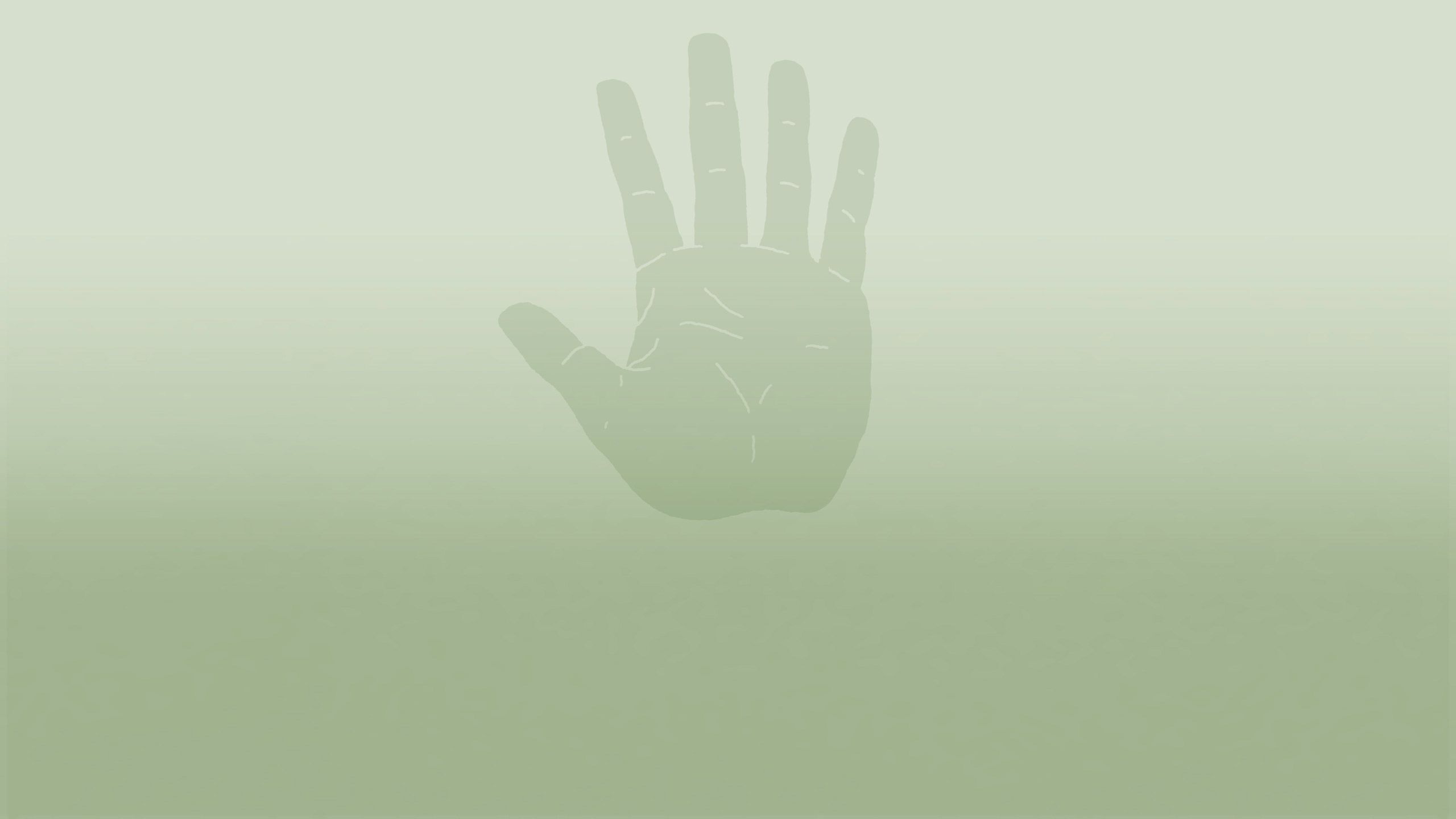 1.
Honda
One of the largest automotive companies in the world, Honda, has used interactive content marketing to increase its average site dwell time by 85%.
Their approach to interactive marketing is simple. In 2016, the company launched a content hub called "Engine Room" to publish their interactive content. The space is now where the company generates leads and brings new products to market.
While Honda's content team had plenty of material, turning these pieces into interactive stories was difficult because of the company's CMS. So Honda started searching for a content creator-led platform their team could use to transform static pieces into interactive stories without involving a developer.
Thanks to Shorthand, the team got their wish.
One example of an interactive piece of content on Honda's Engine Room is this one, telling the story of late F1 legend Ayrton Senna. Using scrollytelling, readers are taken on a journey through Senna's life.
As explained in this case study, since using Shorthand to produce interactive stories, Honda saw subscriptions rise by 600%, click-through rates increase by 47%, and ROI on their site rise by 32%.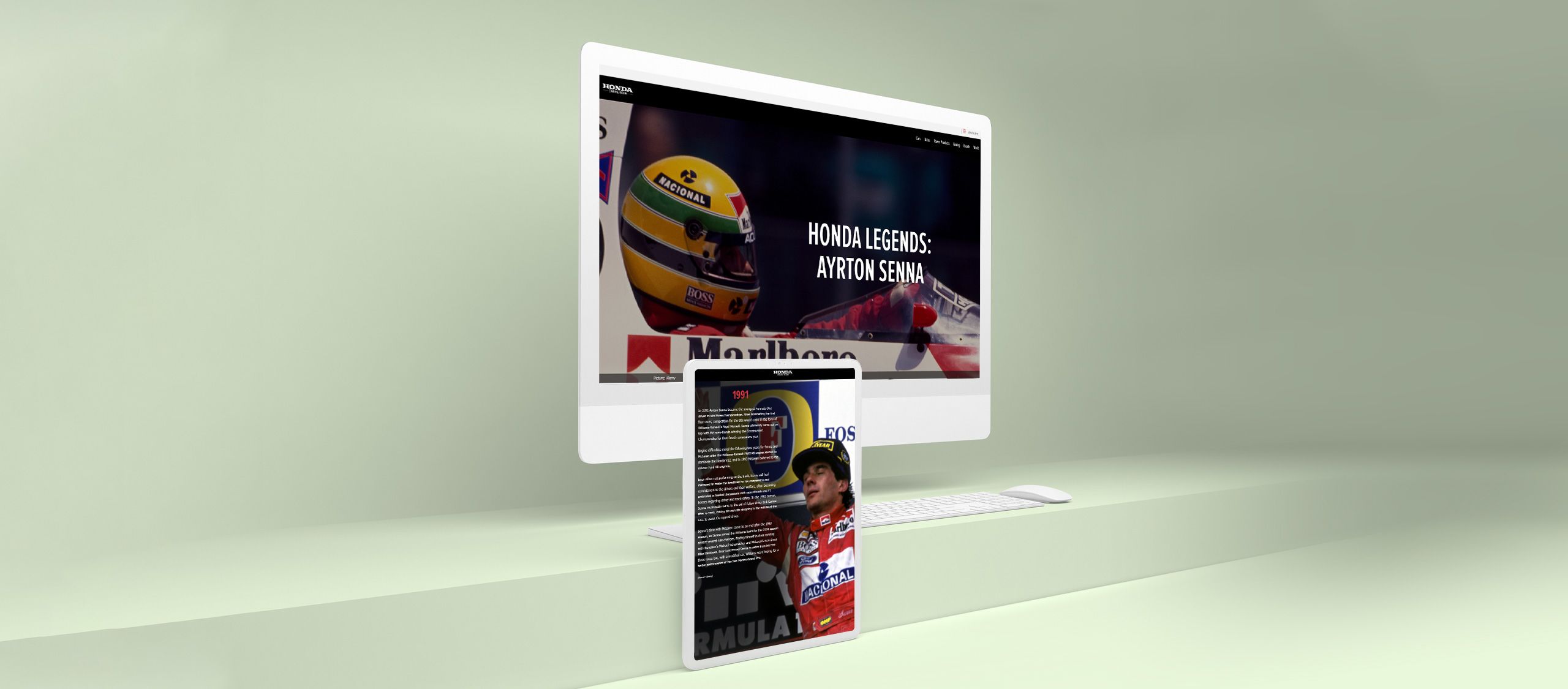 2.
Soundhouse: Intimacy and Distance
Soundhouse is a virtual exhibition and installation by London-based art museum, the Barbican.
When they wanted to take their creative radio and podcasting online, translating their live audio performances into a digital experience was a difficult task. Marketed as a communal listening experience, the site has three 'listening rooms' for people to hold in-person concerts, screenings, exhibitions, and theatre performances.
The creators had all of the material to make their experience work, but their website and blog couldn't handle their visual needs. So Soundhouse turned to storytelling to connect with its target audience.
The brand now uses interactive content to turn long-form pieces into multimedia stories. Everything, from artist biographies to art galleries and film previews, is now turned into interactive experiences to get their audience more involved.
It's been a success—Soundhouse now has over 10,000 viewers worldwide, including in the United States, Canada, Japan, France, Italy, Germany, and Australia.

3.
Manchester City
Manchester City is one of the world's leading football clubs. And in recent years, it has become one of the world's leading producers of interactive marketing.
From their player profiles to their feature articles, the club have been routinely publishing stunningly immersive and engaging content.
One of the team's most innovative uses of Shorthand was their now-famous digital match day programmes. One great example is from a match between Man City and Newcastle.
Using illustrations, video, and archival photography, the story does an exemplary job of introducing the match.

4.
Cristiano Ronaldo—Goal.com
In this example, Goal.com uses a mix of images, video, GIFs, and statistics to bring Ronaldo's career to life. It takes the reader from the beginning of Ronaldo's career to his years as a leading FIFA star.
To keep it interesting, the interactive features include short YouTube videos, a triggered-scroll through his championship wins, and even footage from Ronaldo's appearances in video games.
The end result is a call-to-action that takes readers straight to a page where they can learn more about EA's FIFA 18—and hopefully buy a copy of their own.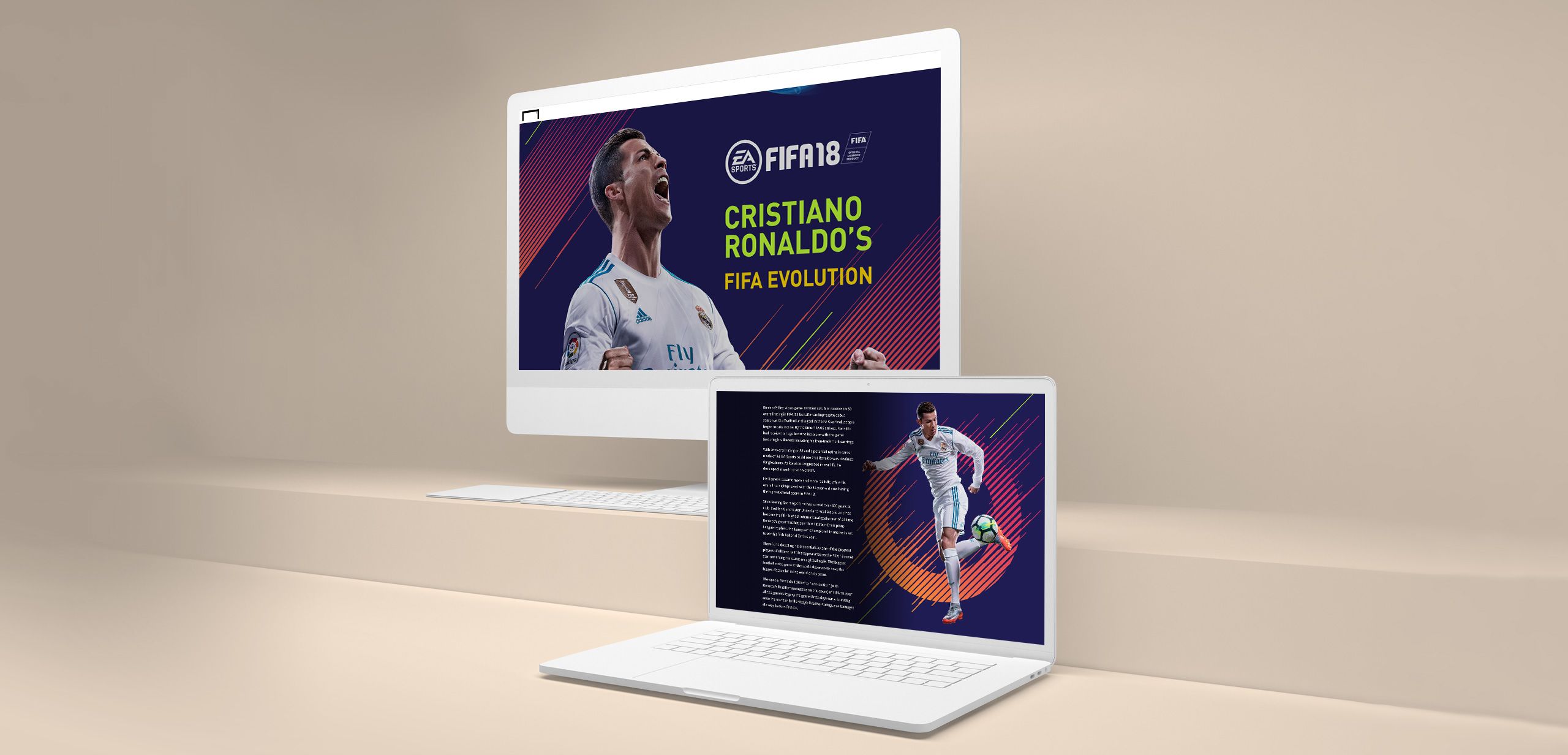 5.
Greenpeace
In this example of interactive marketing, Greenpeace Canada decided to use an interactive marketing strategy to combat single-use plastic pollution.
The organisation launched a "Straw Shaming" campaign that encouraged followers to attach Greenpeace stickers and emojis to their stories and spread the word about ocean pollution.
Greenpeace Canada made short videos that appeared in followers' feeds to alert people about the stickers, showing a step-by-step guide to how they could add the Giphys to their own stories.
The campaign was easy to launch, as Greenpeace took existing assets (like logos and images) and turned them into Giphy stickers. These could then be added to images and videos to encourage people to move away from single-use plastics.
It worked. The "Straw Shaming" Giphys have generated over 700 million impressions to date.
How to get started with interactive marketing
Looking to create interactive marketing content? The first decision you have to make is whether you want to build your own bespoke content using your development team.
With enough time (and a big enough budget), there's a good chance you can produce some great content. But it can be horribly expensive and frustratingly slow to create, especially compared to the cadence most marketing teams work at.
If you don't want to use a developer-centric approach, there's another path you can take: using no-code (technically, 'code-optional') platforms.
These platforms come in two types:
🎨 The design-led platform: Great for teams with plenty of web design resources at hand. These platforms can produce powerful results, but have an extremely steep learning curve for non-designers.
✍️ The content creator-led platform: If you aren't a designer or developer, this is the path you want to take. These platforms help content teams without these resources to hand-create excellent looking interactive marketing content—without needing to write a line of code.
If you want to try out a content creator-led platform, why not take Shorthand for a test drive?
Build attention-grabbing, multimedia stories, without writing a line of code. Get started with Shorthand, and publish your first story free.
Kimberlee Meier is a B2B/SaaS Content Writer who also helps start-ups fuel their growth through quality, evergreen content.