The best free (and paid) sites for stock photos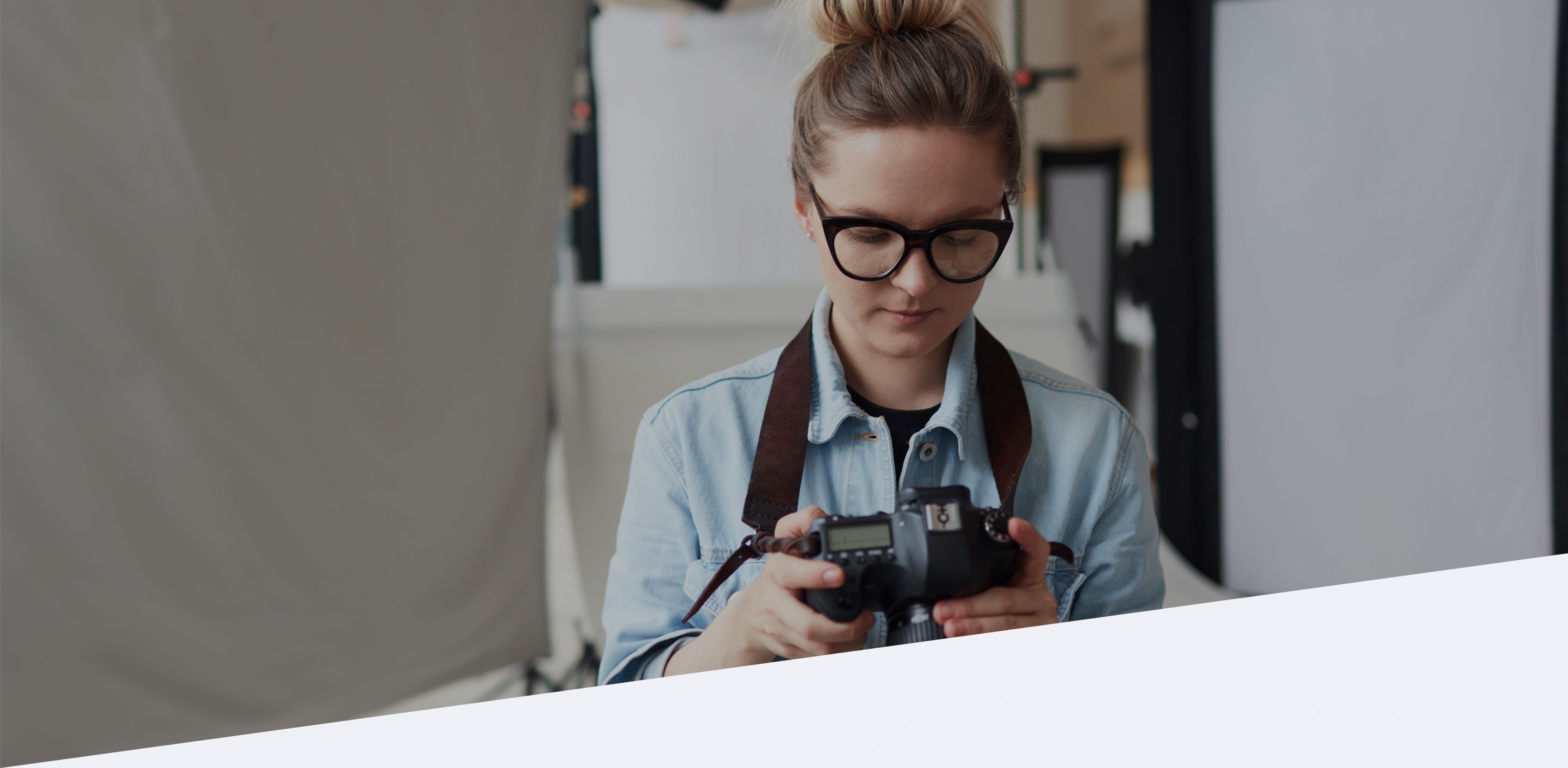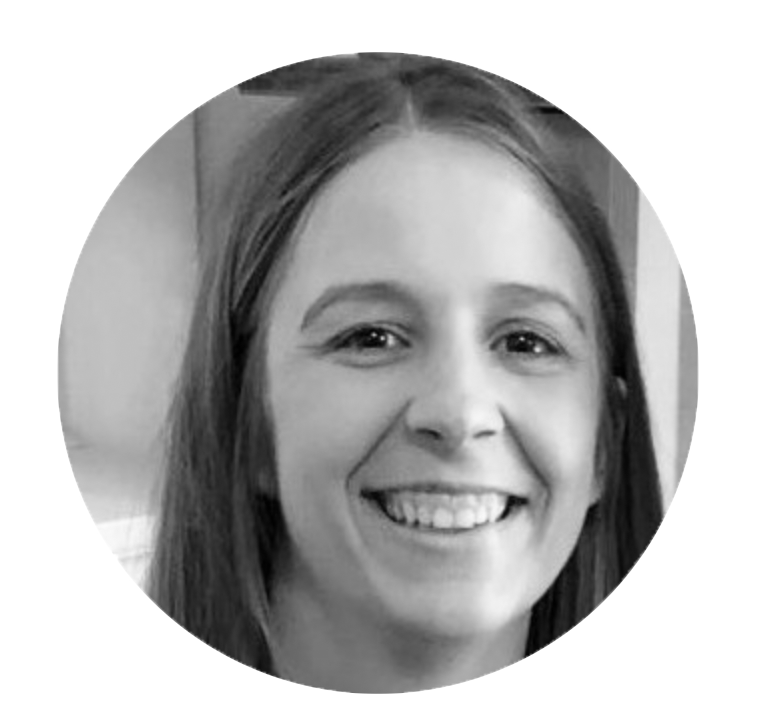 By Kimberlee Meier — Contributing Writer
The rise of photo libraries of free stock images has allowed bloggers, designers, small business ecommerce owners and anyone with a social media profile to create professional-looking visual content — sometimes without paying a cent.
There are now dozens — literally — of impressive libraries full of photos, illustrations, videos and icons for content creators to reuse. This includes public domain and royalty-free images that can be used for commercial purposes.
But which library should you choose? And what are the pros, cons and risks of using free content?
In this piece, we're going to break down:
Free versus paid: what's better?
What to be aware of when using stock photos
The six best free stock photo sites for content creators
The three best paid photo sites for premium images
Let's get started 📸
What do the BBC, Unicef, and Penguin have in common?

They publish stunning, interactive web content with Shorthand. And so can you, for free. No code, no credit card, and no commitment required.
Start publishing.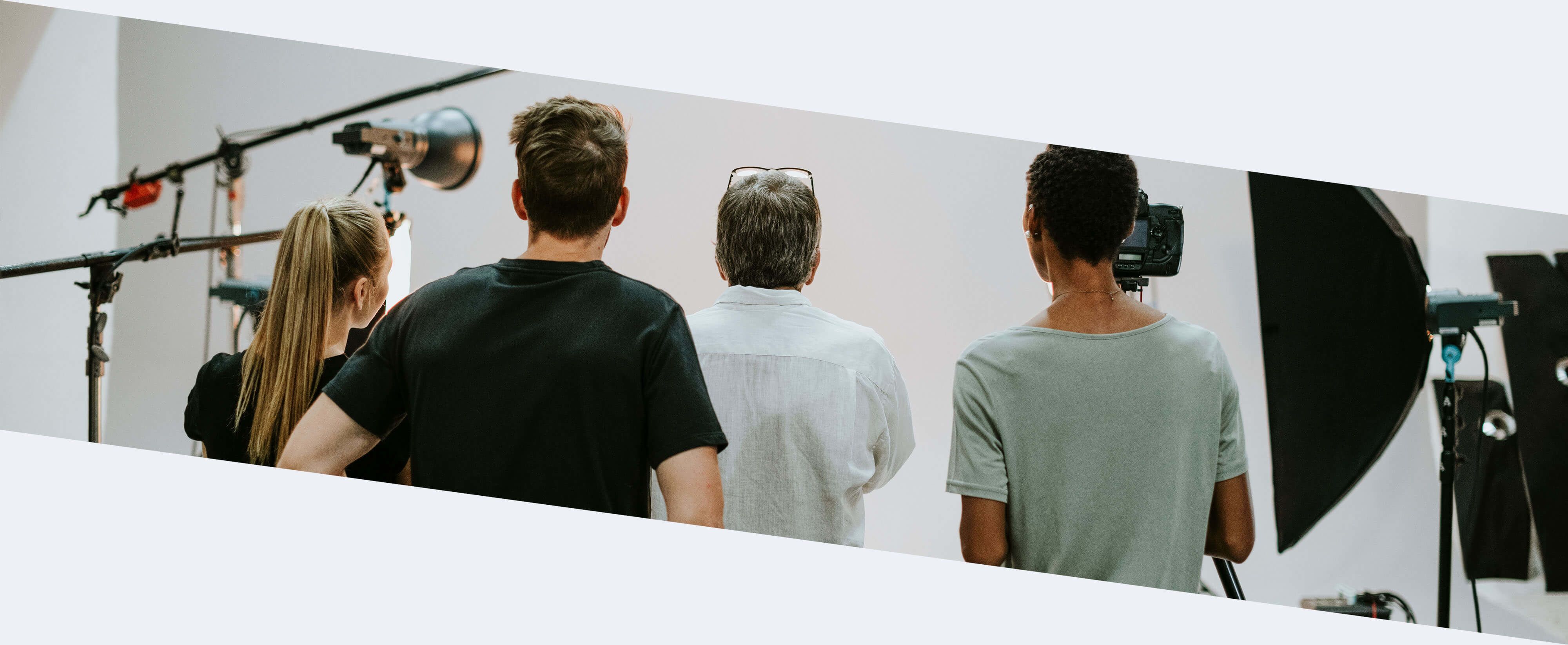 Free versus paid: what's better?
Stock images are photos that are made available to the general public for reuse. When you're searching for stock photography, you'll probably come across two options:
Royalty-free: These images are free — even for commercial use — and you don't generally have to credit the photographer.
Watermarked: These images are available if you pay a license fee or subscription, and you will have to pay to remove the watermark from the photo.
Many stock photos online, especially those stored in stock photo libraries, are royalty-free. However, you may have to pay to access some of these stock photo libraries to cover licensing fees.
Other areas to think about when tossing up between free vs paid include:
Risk: Some creators choose to pay for stock photos due to the red tape involved in licensing. If you pay for a stock photo, you can be confident that you won't infringe on any copyright issues when your content is published.
Variety: If a lot of content creators are relying on free stock image libraries, chances are that a lot of articles will feature the same photos. Accessing images that are niche or can only be used on your website often comes at a price.
What is notable is that whether you choose the free or paid route, the quality of the photos won't necessarily change.
However, using free stock photos comes with some serious perks.
Want to learn more about using photos on the web? Check out our guide to file formats.
What copyright and licensing issues to watch for when using stock photos
Before you download and use a stock image, always check the copyright licensing terms.
Stock photography sites will make it clear what you are allowed to do with the images they host. Most of the time, you'll be allowed to be published without asking for the photographer's consent.
However, you should always check the copyright restrictions for an image before you ever use it in your own content. Some photo libraries also use Creative Commons Zero (CC0) licensing, an agreement that enables content creators to copy and distribute images for personal and business use without requiring attribution.
You may also come across other Creative Commons licenses, which may require attribution or limit commercial use. If you fail to attribute a photo or use an image that infringes on the photographers' copyright restrictions, the fines can be significant.
You should also check whether your image has a single or multi-use license.
Even if you buy a stock image, you need to check the fine print in the licensing agreement. Royalty-Free (RF) licenses allow you to use the image multiple times without any restrictions. However, Rights Managed (RM) licenses mean that although you've paid to use the image, you can only use it once. If you want to use it again, you'll have to pay again.
The 6 best free stock photo sites for content creators
For content creators on a tight budget, free stock photo websites offer a way to access libraries full of images they can re-purpose without paying a penny.
Generally, these libraries aren't as varied as those found on paid stock photo sites, but the right one will have enough options to meet most content needs.
The first site on our list is Unsplash, one of the internet's largest free stock image libraries.
Unsplash's curated collection has over 2 million high-resolution images that have been submitted by a community of more than 200,000 photographers. To submit images, photographers must apply to be a contributor. Once their images are uploaded, these can then be searched by the public and embedded in content for free.
The only request Unsplash makes is that you attribute the image to the contributor once the content goes live.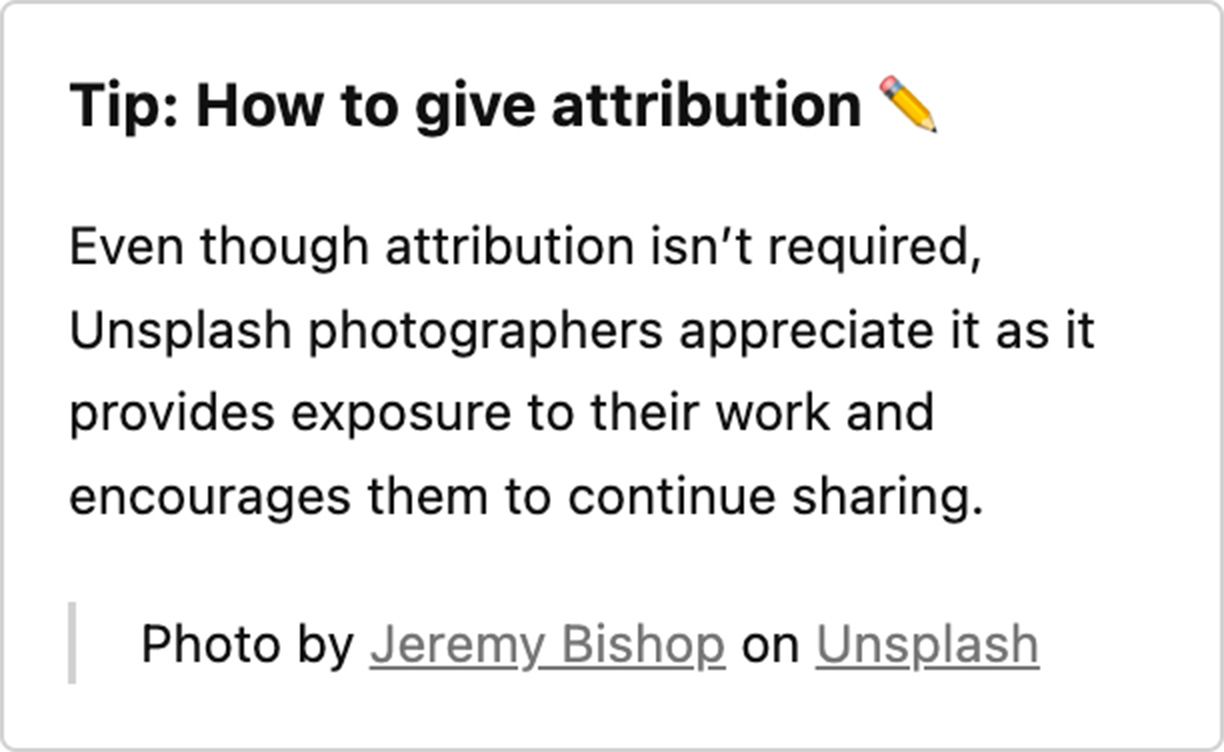 Biggest perks of using Unsplash:
✅ Images are tagged into content libraries, so users can use the search tool to quickly find a picture that suits their needs
✅ The site has an iOS app that gives creators the freedom to search for images from a mobile device
✅ Content creators can "follow" photographers that they like and get alerts when they upload new images
Now, you can access Unsplash's extraordinary photo library from within the Shorthand app. You'll see the Unsplash option every time you go to upload media to your story. Learn more.
If your content needs an image that's a little more formal, try Pexels.
Pexels' free stock library, which has both images and video, includes thousands of images geared towards businesses and startups. The library is organised into collections so creators can select specific images that suit their needs.
Like Unsplash, contributors need to create a profile before submitting an image. Once they've uploaded photos, Pexels hand picks the best ones to share in its library.
Biggest perks of using Pexels:
✅ Filters allow you to narrow down searches based on image size, colour and orientation
✅ Every image is tagged and searchable—you can find what you need quickly
✅ Pexels' license allows modifications, so users can edit them as they like
Pixabay is the next free stock image site on our list, and its library is packed—creators have over 2.5 million images to choose from.
Creators can choose from a huge range of stock, from photos to videos, vector images, illustrations, and even sound effects. Creatives can search the collections of images to find what they're looking for and, thanks to advanced filters, they can use symbols or words in their search for more precise results.
Biggest perks of using Pixabay:
✅ Content creators can give back to contributors on Pixabay and donate directly to them through PayPal
✅ Pixabay's SafeSearch filter blocks any inappropriate or explicit images from your search results
✅ Custom API gives developers the chance to integrate the platform and make it easy to search and retrieve images under Pixabay's License.
One of the more quirky sites on our list, CC Search — now known as Openverse, an open source project hosted by Wordpress — is a mix of images and sources from museum and library collections that creatives can use for free.
With over 6 million images and audio files to choose from, finding the right content on CC Search can take a little time. But you'll quickly notice that a lot of the images and audio are unique and will help your content stand out from the crowd.
The site also has a detailed search function to filter content based on licensing agreements. Thanks to these filters, each image has instructions on exactly how the image needs to be attributed according to licensing restrictions: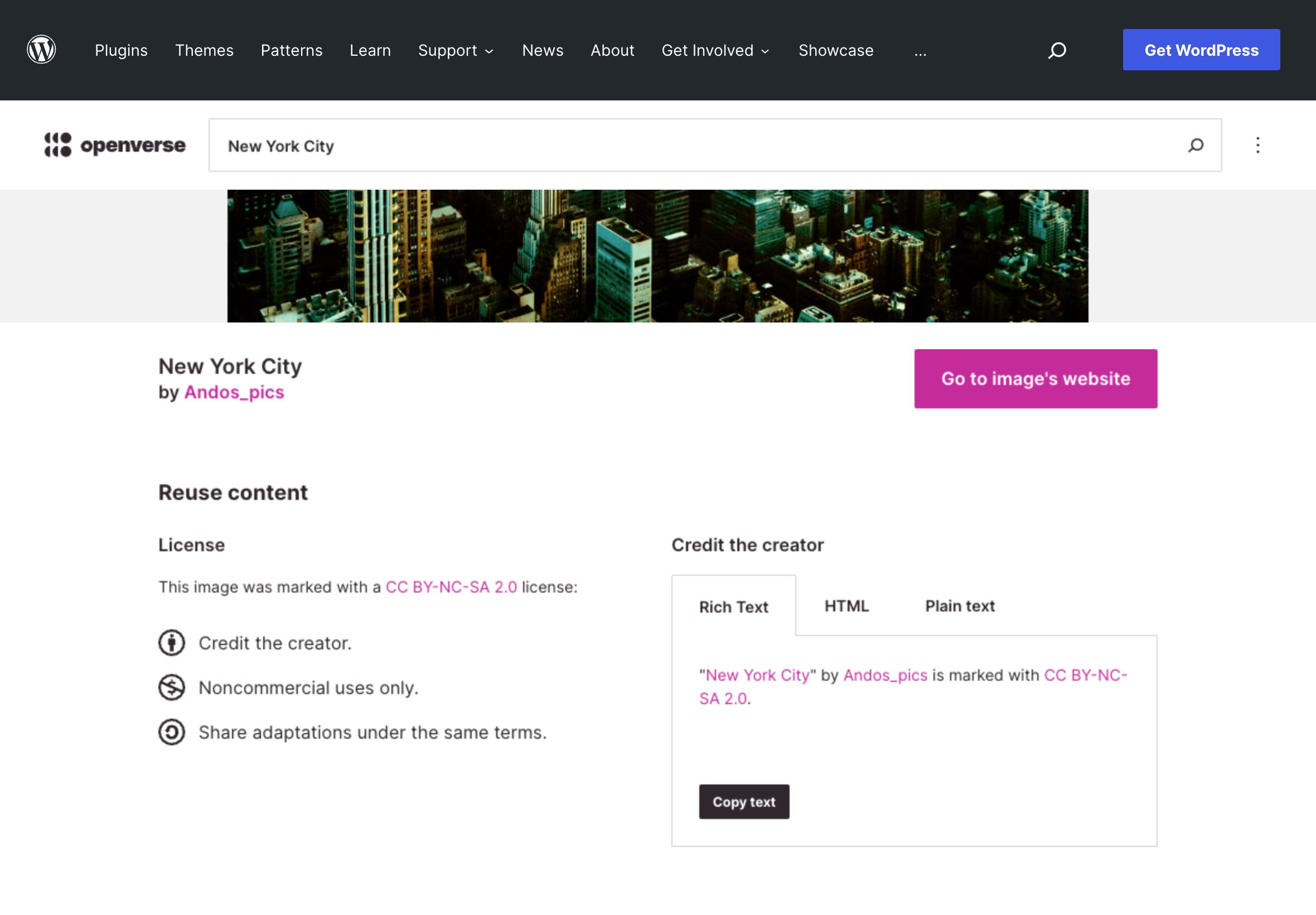 Biggest perks of using CC Search:
✅ Huge collection of images and audio that is updated regularly
✅ Clear licensing information attached to every individual image and audio file
✅ Unique images that aren't found on other sites (which helps differentiate your content!)
If you want to avoid boring and cliched images that tend to flood free stock photo sites, check out Gratisography.
The library is full of royalty-free stock images that photographer and graphic designer Ryan McGuire has curated. Every image is downloadable in HD, and the license is really generous: content creators can use images on advertising campaigns, websites, blogs, logos and even book covers.
Biggest perks of using Gratisography:
✅ Truly unique images that are hand-curated by a photographer
✅ Vector collection is available if you want to inject some unique illustrations into your content
✅ Images are adaptable and can be used on personal and commercial projects (check the details here)
Vecteezy may look like most of the other free stock image sites on our list, but there's a big difference—its search bar.
If you are looking for a particular image on Vecteezy, you can set the filters to search by orientation, style, colour, number and age of people, and composition. The filters also allow you to search based on licensing restrictions, so you can look for images that are free or listed for only editorial or professional use.
Biggest perks of using Vecteezy:
✅ Images are screened for quality before being uploaded into Vecteezy's library
✅ Download images in your preferred pixel size
✅ Save your favourite images and create collections inside your Vecteezy profile
While these six sites will probably be enough for most uses, there are many other free photo sites available online. Some honourable mentions include:
The 3 best paid photo sites for premium images
The one big advantage of images from premium stock image sites is that they aren't as widely used as photos from free sites.
Here are three libraries that offer premium, unique, won't-see-it-anywhere-else images that are perfect for content creators.
Getty Images is an exclusive content library with over 75,000 contributors worldwide.
Search for images and videos based on the date they were uploaded, resolution, location and even by the photographer. Brands can also reserve an image using Getty's "royalty-free freeze" option to prevent others from licensing the same content for a specific amount of time.
Biggest perks of using Getty:
✅ No daily or monthly download limits from collections
✅ Request commissions for projects from within your profile
✅ New editorial and creative images added daily
Price 💰
Single image downloads start at $150. Find out more here.
Shutterstock is one of the most recognisable premium stock photo sites for a reason.
The site's library houses millions of photos, graphics, videos and illustrations for creatives to choose from. Each day, the site is updated with thousands of new images and videos to ensure premium subscribers get their money's worth.
Shutterstock also has an in-built editing feature. Content creators can choose from templates or create a new image from scratch and choose the exact resolutions to suit Facebook stories, Instagram posts and Twitter banners.
Biggest perks of using Shutterstock:
✅ Images can be purchased in bundles to save money
✅ Over 1 billion images, videos and audio clips to choose from
✅ The site is available in 21 different languages, making it perfect for global teams
Price 💰
Plans start at $25/month for 10 images. Find out more here.
The Adobe Stock photo library includes over 70,000 photos, videos, illustrations and templates that are currently free to download for personal, creative and business use.
Adobe Stock, which was launched in 2020, isn't as big as the other libraries on our list. But it's geared towards one type of creative: Adobe Creative Cloud app users. Images can be imported directly into Photoshop, InDesign or Illustrator and edited before they're finalised.
Biggest perks of using Adobe Stock:
✅ Integrates with other Adobe apps, making it a perfect addition for professional designers
✅ Adobe's standard license terms cover every image
✅ Get 10 images for free using a 1-month free trial
Price 💰
Prices start at $9.99 for a single image. Find out more here.
Thanks to the millions (and millions) of high-quality images available on stock libraries, it's never been easier for brands to create unique content without blowing their budgets.
A few quick downloads can now bring content to life, whether you use a free stock image or go the premium route. As long as you remember to check the fine print of the licensing agreement and credit the contributor (if you have to), content creators can now make their content stand out online and tell a story.
The choice is yours—which site will you use to help tell your next story?
Kimberlee Meier is a B2B/SaaS Content Writer who also helps start-ups fuel their growth through quality, evergreen content.