Virtual Galleries
A new way to tell stories online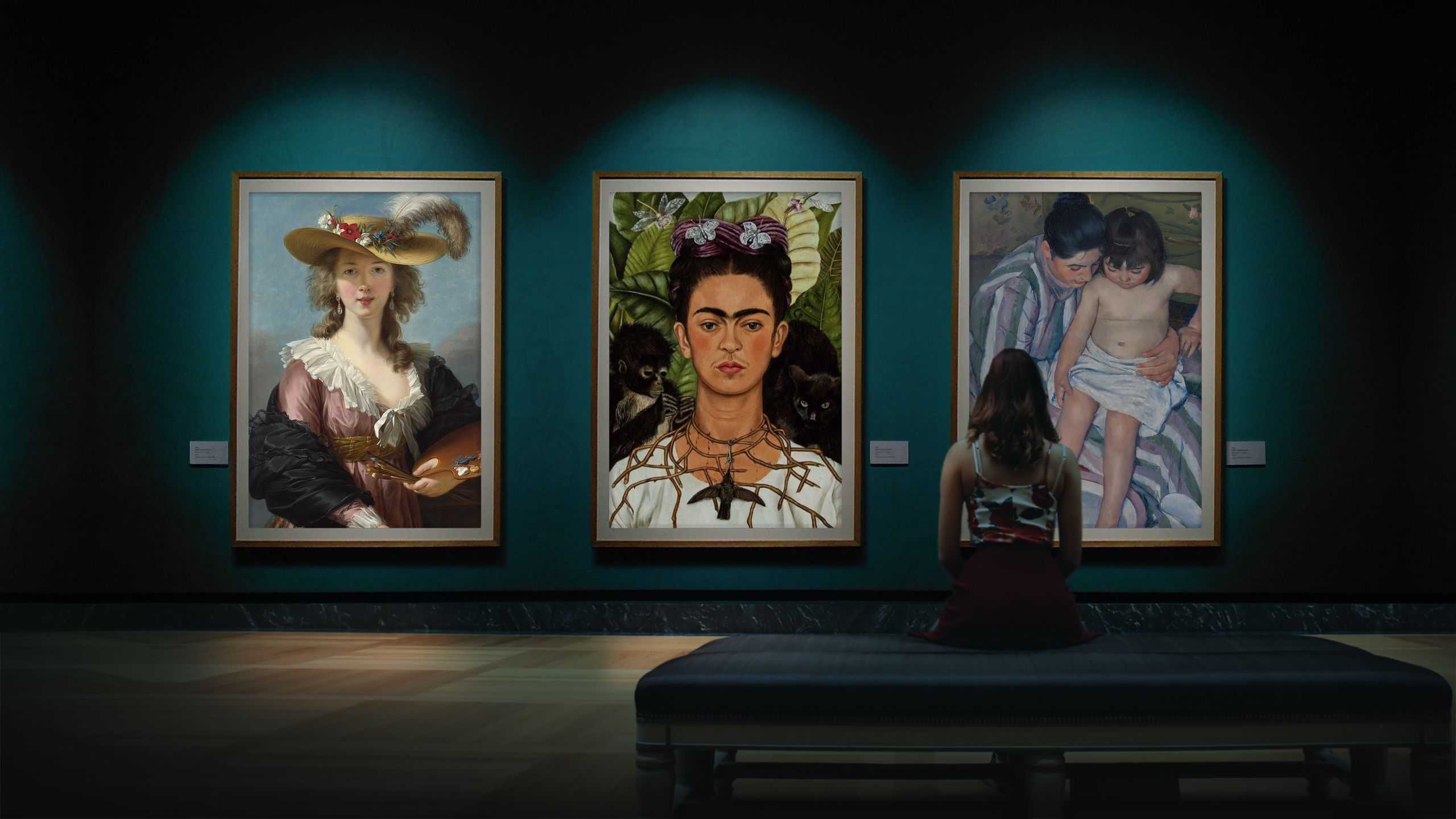 With digital storytelling platforms like Shorthand, building a virtual gallery is accessible to even the smallest organisations.
Theatres, art galleries, museums, schools, and auction houses are bringing their collections out of the shadows with virtual galleries. In this guide, we discuss the rise of virtual galleries, outline the challenges and possibilities, and showcase some creative examples.

In just the last few years, digital exhibitions and virtual gallery walks have gone from an ambitious idea to an exciting reality for cultural institutions. A mix of original thinking, more accessible technology, and (there's no avoiding it) the coronavirus pandemic, have encouraged curators and educators to try something new. But what exactly goes into creating a virtual gallery? And what advantages do they offer?

Bringing stories out of storage
A bow glides across the strings of a priceless violin. There's a hush in the room as the music begins. After the performance, one of the musicians gets up to speak. He shares his experience of playing classical, electronic, and indigenous music together, and shows photographs from a recent international tour.
It could be an unmissable night at the Barbican in London, but it isn't. Instead, it's a virtual gallery created by the Barbican to host the Australian Chamber Orchestra. While concert halls are closed and listeners stay at home, the music plays on.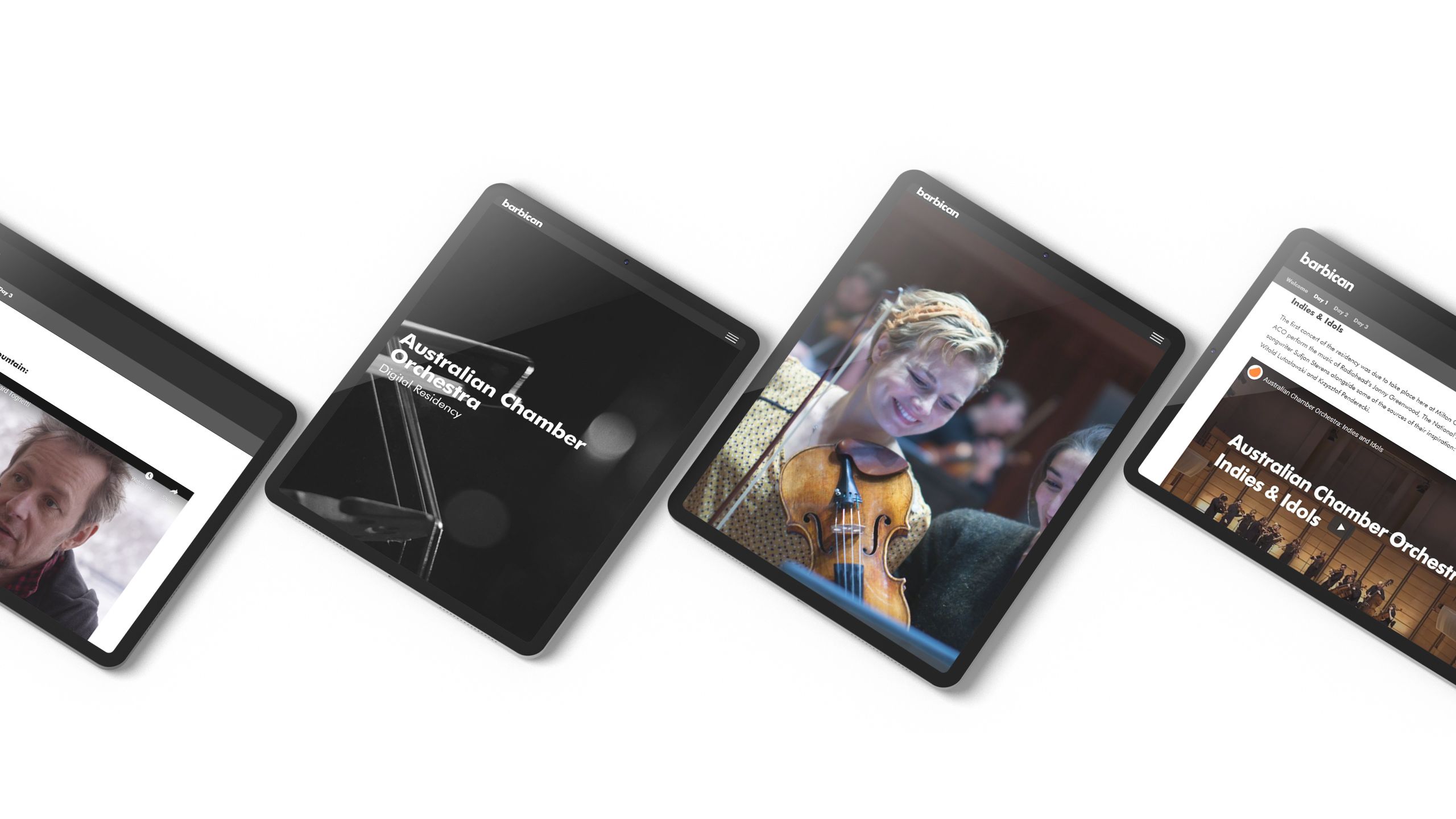 The coronavirus pandemic has made it difficult to reach audiences. But although the virus is new, the problem faced by the Barbican and the Australian Chamber Orchestra is an old one. Cultural institutions have always been challenged to reach more people. What's the point of an orchestra if nobody can hear it? What's the point of a world-class collection if nobody sees it?
Every cultural and educational organisation faces this challenge. According to research from Quartz, national museums display just 5% of their collections on average. Just like theatres, galleries, or lecture halls, they are limited by their physical capacity. There's only so much space available to stage performances, show collections… and, of course, to squeeze in the audience.
According to Kimberley Bradley of the BBC, the hidden stories of many cultural institutions are doomed to remain untold "until visible storage is everywhere — or museums grow so large that everything is on view, like a massive database."
Looking for examples of stunning visual storytelling? Check out our roundup of immersive photo essays from around the world.
Beyond digitisation
So far, creating a massive database has remained the most popular approach. Many galleries and museums are working on digitising their collections, opening them up for research and remote viewing. The lockdowns of the past twelve months have offered a great opportunity to work behind the scenes and explore buildings which are normally packed with visitors.
But digitisation is only a means, not an end. Presenting a list of objects, artworks, music tracks, or archives online doesn't offer the same immersive experience that viewers are used to in live events. And they'll miss out on the atmosphere and excitement of a curated gallery experience or concert hall.
Some organisations have found original ways to open up their digitised archives and collections. For example, the Science Museum has added a Never Been Seen feature to its online collections. Each click takes you to an object that no one else has ever viewed online before.
This is a fun way to explore the collection (and a great way to waste an afternoon), but it doesn't solve the problem completely. The objects are presented without any context or explanation. What's a composition punch? What can you do with a radiosonde? Why were these artefacts worth preserving? What's their story?
To address this problem, many cultural institutions are using digital storytelling platforms to create stunning online galleries. These virtual galleries are immersive, interactive, and memorable — and they're getting great results for their institutions.
Digital stories and virtual galleries
Recreating the 360-degree experience of visiting a cultural institution is an enormous challenge.
Think about everything that goes into a physical visit to a gallery, for example. The size and layout of the physical space. Details like the colour of the walls or the style of lighting. You can see displays or performances, hear music or speech, touch objects, or take part in activities. Your favourite gallery or theatre might even have a particular smell. Maybe the taste of carrot cake always takes you back to a much-loved library café.
A simple blog post can't recreate this multi-sensory experience. Conventional content management systems (CMS) can share images, text and links — but they often lack the flexibility to build something truly original and interactive. Most blog posts are 'content', whereas a gallery is an experience. Our web browsers can be the portal to something new, but they can also be infuriatingly rigid and limited.
Cultural institutions want to create online experiences that reflect their presence in the real world. That means creating virtual galleries which are interactive, or even multisensory, including sight, sound, ambience, and different ways of moving through space. The only difference is that you move by scrolling, instead of walking.
Some cultural institutions have already started to experiment with interactive digital storytelling. This online exhibition from the Hoover Institution uses archived documents, photographs, sketches, personal correspondence, and even linguistic analysis to tell the story of Japanese Americans interned during the Second World War. Titled Voices from the Archives, the virtual gallery is explicitly designed to bring forward neglected stories and tell them to a wider audience.

In some cases, a virtual gallery can enhance the experience of a traditional event or exhibition. This Rembrandt exhibition from English Heritage uses digital publishing to give visitors a more detailed view than they could ever achieve in person. Digital viewers are only limited by the size of their screen. They can zoom in to see Rembrandt's unmistakable brushwork, learn more about the tiny details of his technique, and even view an X-ray of his famous self-portrait. Scrolling through the digital gallery, it feels as if you've been given a private tour of the artist's studio.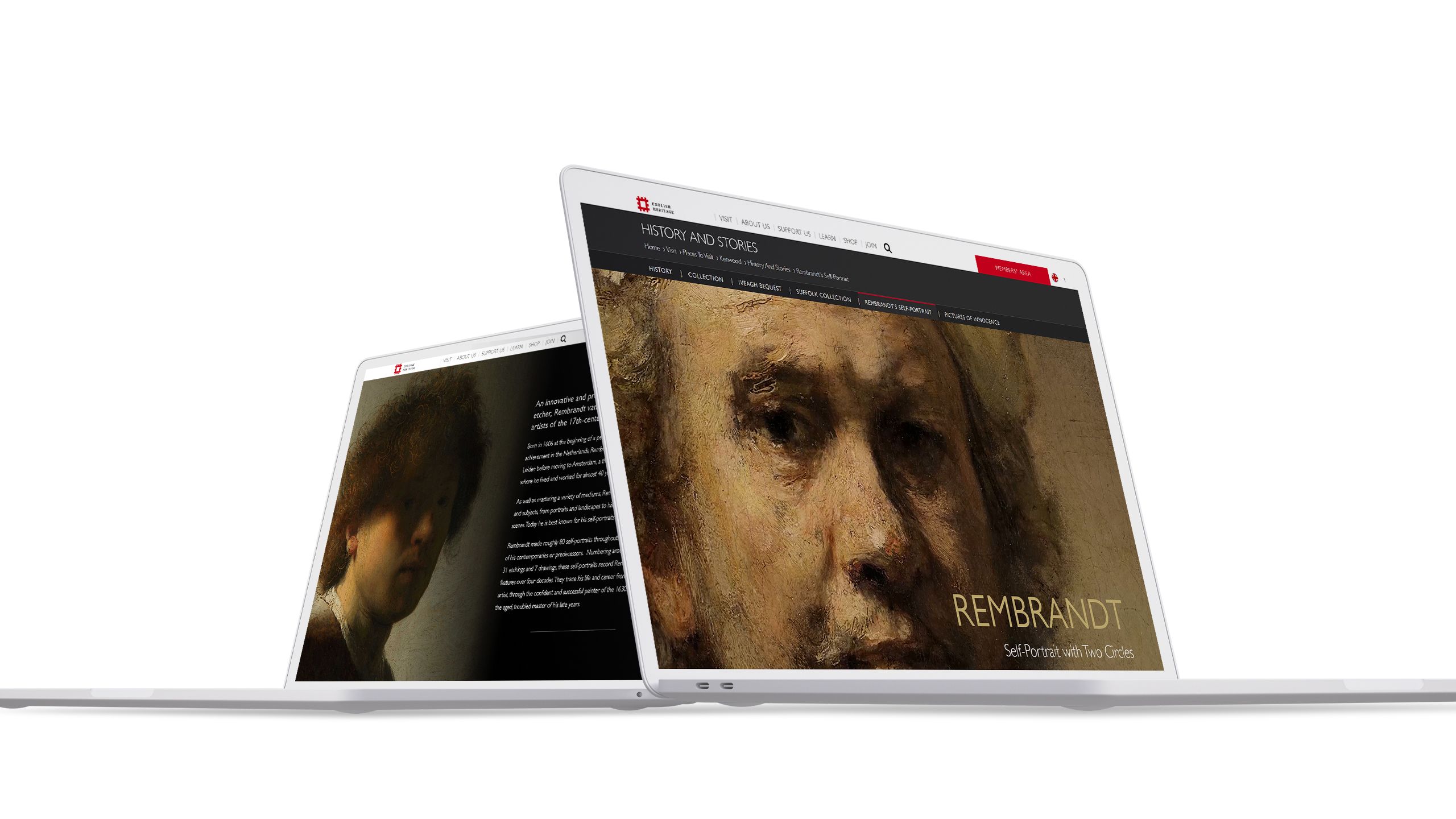 The no-code future of virtual galleries
How did cultural institutions like the Barbican and the Hoover Institute produce these digital experiences?
For several years now, it's been technically possible for developers to create amazing online content. With more powerful browsers and faster internet connections, businesses with time and money to burn will always be able to create bespoke digital experiences.
But this developer-heavy model doesn't work for almost all cultural institutions, which typically run on a tight budget. The impact of Covid-19 on visitor numbers, funding, and consumer spending has only increased this constraint. And in the past, building virtual galleries has required an investment of time and resources — including web design and development — that has been difficult to achieve, and impossible to scale.
Content teams at most cultural institutions simply don't have the resources to dedicate a whole team of developers to creating and maintaining bespoke digital projects.
This is where the rise of no-code (or code-optional) digital storytelling platforms has helped. The idea behind these platforms is simple: all the latest features of digital publishing, translated into a straightforward system which anyone — not just designers or developers — can use to make stunning digital experiences.
This radically simplifies the process of building a virtual gallery. It means that teams working in cultural institutions can produce stunning content, at scale, and within budget.
Storytelling without limits
No-code digital publishing has two major implications for cultural institutions. First, they can bring virtual galleries in-house. With digital storytelling platforms like Shorthand, even the smallest organisations can build their own virtual gallery.
Second, it opens up new possibilities for digital storytelling. What if we went beyond virtual gallery walks? What about using rich media online to forge links between collections, share academic research, showcase auction items, hold a virtual music festival, or go behind the scenes of a private archive?
Digital publishing also makes it easier for organisations to make connections and provide broader context to their audiences.
The University of Cambridge recently turned to digital publishing to offer some context and update readers on how they're digitising their collections. Mapping the World: One Digitisation at a Time gives a unique insight into the history of the University of Cambridge map collection, as well as its links with other libraries and learned societies. The virtual gallery provides context, and directs new audiences towards several cultural organisations.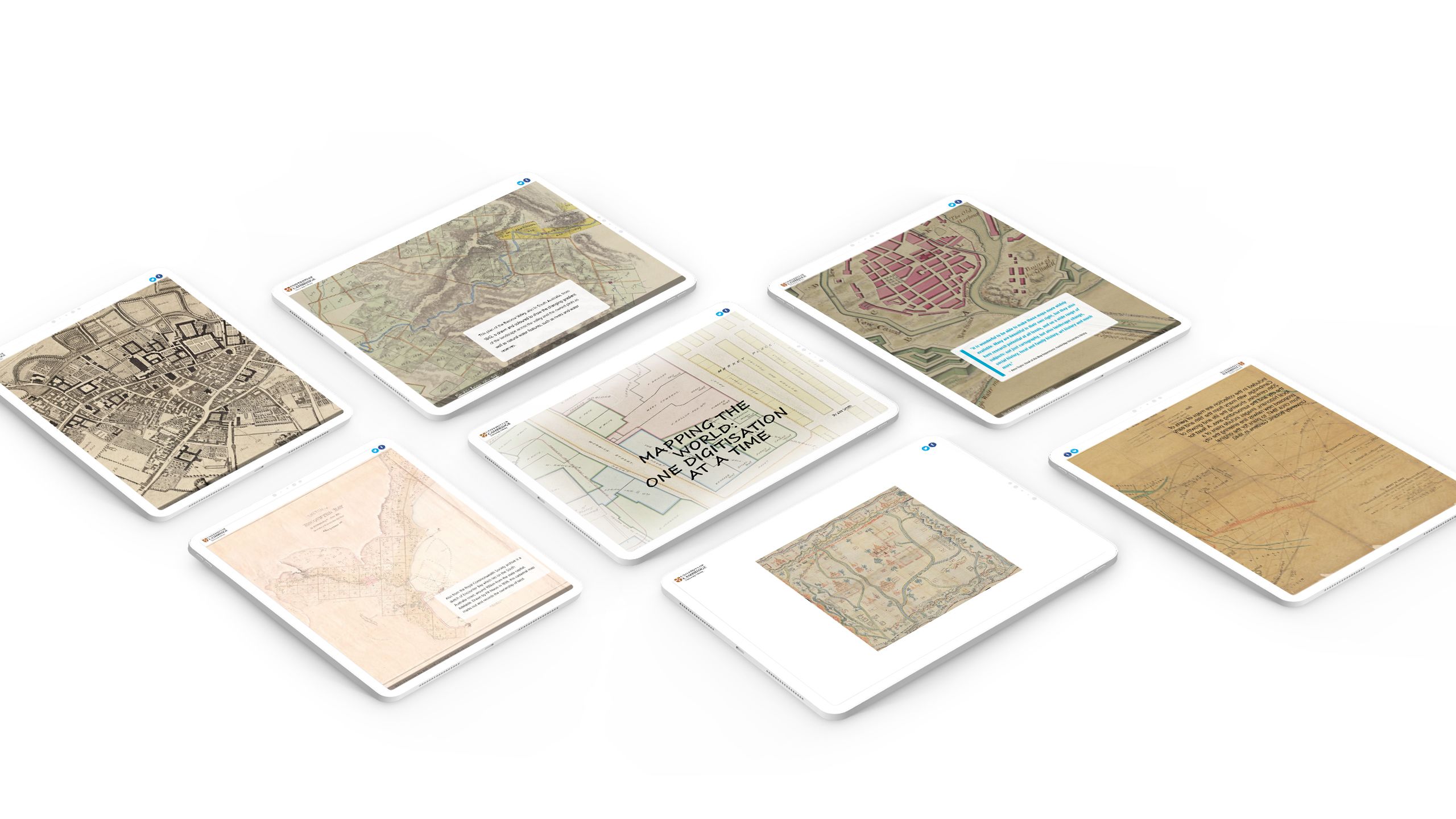 Digital storytelling can even make a virtue of restrictions and limitations. While the Sydney Opera House was closed to the public, it was the perfect opportunity to create a virtual gallery of photographs and interviews from behind the scenes. Sydney Opera House at Rest uses digital publishing to tell a story that would never have been possible before.
Virtual galleries are a way to remove limits. With digital publishing, you can reach audiences anywhere in the world, without any constraints on time, distance, or audience numbers.
Corinna Keefe is a freelance writer specialising in tech, heritage, and education.
So what story do you want to tell?